Top 20 Items: The 2018 Nordstrom Anniversary Sale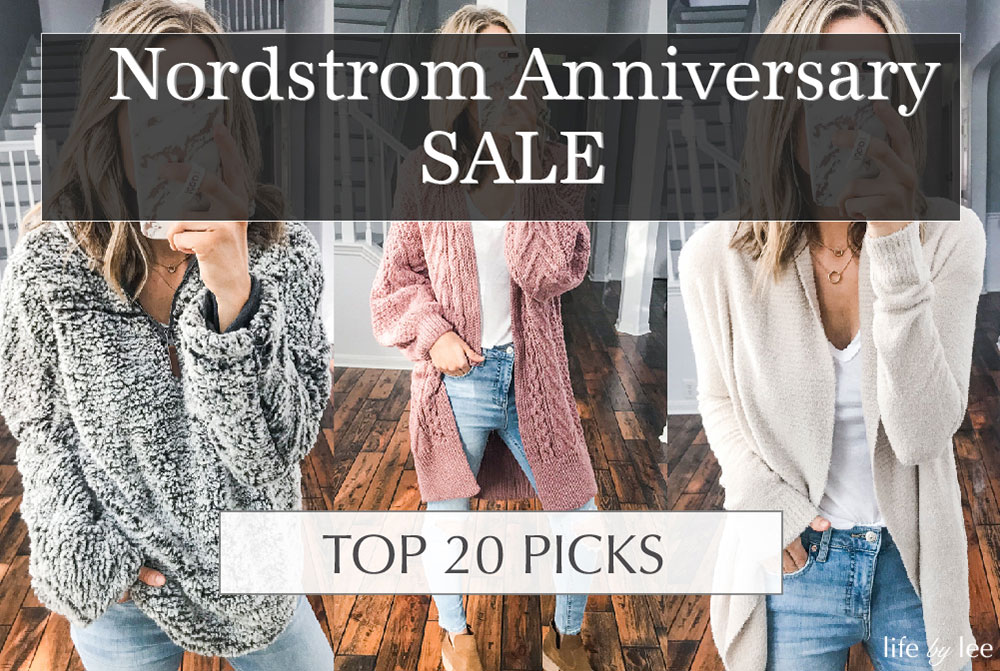 This is the SUPREME list. I have spent HOURS previewing, trying on, browsing the site, etc… Like MAJOR research this year you guys! After trying everything on in my stories for you guys (you can find everything I tried on over on this page HERE), I've narrowed it down to my top 20 items from the Nordstrom Anniversary Sale below!
Top Item That Wasn't In My Store (Ordering Online.. Patagonia Jacket! I wanted it SO badly last year, & I can't wait to get it in!! HURRY… it will sell out!
NORDSTROM ANNIVERSARY SALE TOP 20 ITEMS
I wear the x small/ small in this… fits true to size… softest thing EVER. I've been dreaming about finally buying this for myself, & this is the year. HURRY, because this sells out SOO fast every single year!
I wear a size 27 in these, which is my normal size. The Free People jeans fit true to size, and are SO comfy & stretchy. I have them in black, white, and now denim (keeping these bad boys). They are all I want to wear lately, and the knee holes are PERFECT. They stretch out to the perfect size after wearing them a few times.
You can't go wrong. This is the plain white v neck tee I'm wearing in almost all of these images, lol!  I like to stock up on basic short & long sleeved tops that I can wear all year long during the sale. The color ways are SO good this year. I sized down one size to an x small in these tops! Snag a few before they sell out!
Holy softness! This tee is AMAZING! It comes in ALL of the colors, and I seriously almost bout all of them. These are SO good for the price. I got my regular size small in these, and I love comfy fit on them. So cute with jeans right now & layered under jackets & cardigans in the Fall!
OMG the coziness is UNREAL. I own this already in the pullover version, but I REALLY wanted to get the zip up this year. In my try on I mentioned sizing down (thinking I was wearing an x small). I was actually wearing a small, so get your regular size in this one. GO FAST. These always sell out!!! Snow bunnies unite!!
I thought that these were $99 for the longest time…. HECK YES to them being only $79! These are probably my favorite everyday staple booties from the sale. I got my regular size 8.5 in these, and they are SO comfy. Could wear them all day, everyday! These are AMAZING & I just love the style!
SO pretty. The quality & heaviness is AMAZING for only $49. I love the open weave, and the color I got is to die for. It's seriously SO good. The perfect cardigan for wearing during Fall.
Holy Moly. These honestly are just as cute as the Good American Jeans I almost bought. They are SO cute. Articles of Society has been a favorite denim brand of mine for awhile now, but most of their styles were mid to low rise. These are high rise, and they are seriously EVERYTHING. The price is TOO good. Everyone needs a pair of these in their closet. I got my regular size 27. They fit true to size, and I PROMISE you will not regret this jean purchase.
I wanted Vince Camuto OTK Boots SO bad last year during the sale, but I ended up getting Hunter Boots instead (PS those are on sale again, linked HERE). This year… I was so excited to finally buy these for myself. They are SO comfy & the material is SO soft. They will go with everything this Fall, and I can't wait to start wearing them! Fit true to size, got my regular size!
The softness of this material & the drape is what sold it for me. I freaking LOVE this thing. It's so comfy-stylish. There was no way I could pass it up. Going to LIVE in this thing all Fall! I got my regular size small (fits true to size).
SO good. This top looks like Free People, but without the price tag. You can actually style it three ways. All the way buttoned, tied in the front, or half tucked. I sized down one size to an x small because it runs a little big. This one will go fast because it's such a good everyday basic, and this style of top is SO popular right now.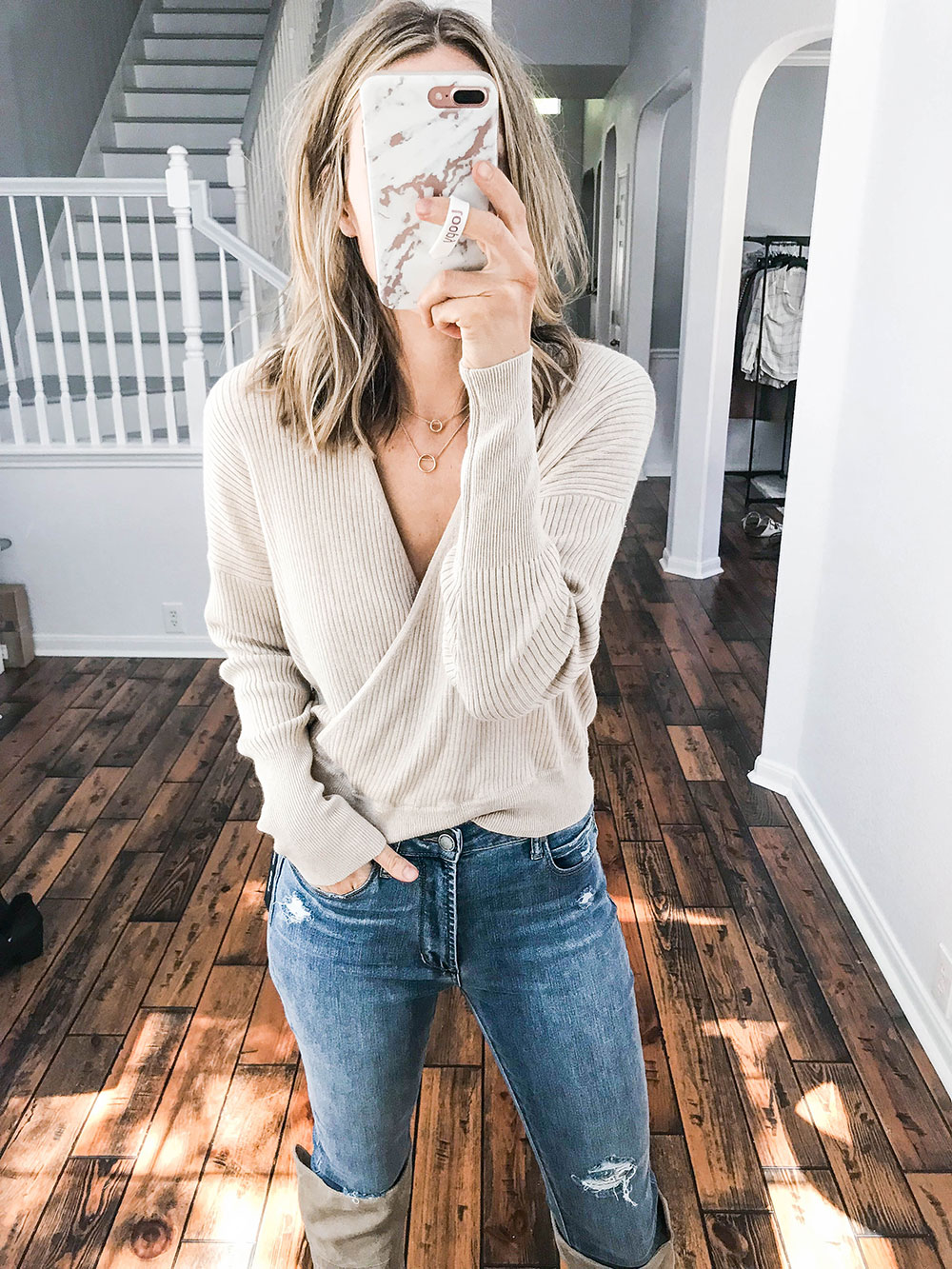 I've wanted a wrap sweater for awhile now, but all of the super cute ones were so expensive. I love them because they are a twist (literally) on a classic sweater. PLUS they are very nursing friendly. Super easy to whip out the milk machines in this bad boy! I sized down one size to an x small in this!
This baby is LUXURY. I can just imagine myself wearing it when I'm opening my presents on Christmas morning LOL… I know I'm strange. BUT… it's so amazing because it's kind of a mix between a cardigan & a robe so you can totally wear it out and about. If you want to wear it at home, you will look a little more put together than if you were in a big robe. WIN WIN. Barefoot Dreams always sells out for early access, and then sometimes they restock when the sale goes public. I
These are SO cute you guys. They look like the Free People ones that I've had my eyes on forever, but the price point is way lower! I went for the pink ones because they are just SO gorgeous. I got my normal size 8.5 in these. I think that these might be a top selling bootie this year because of their price point & similarity to the popular Free People booties, so hurry!
Always a #1 seller. Last year a version of this cardigan sold out SO quickly it was hard for people to get their hands on it. It's back this year, and I love the design even more. I size down one size to an x small in this cardigan for the perfect fit. It's SO comfy, and you can't beat the price!
I've wanted these for awhile now, so this year I finally scooped them up. These are SO dang sexy & cute. I LOVE them over SPANX leggings (which are also on SALE, grab the pair I wear HERE). I love wearing the SPANX leggings, these booties, and then a pretty tunic or dress over the top for cute Fall & Winter looks! These boots fit true to size, and they are my favorite black pair of OTK boots that I've ever found.
OBSESSED with everything about this shirt. The fit, the pattern, the style. I love that I can wear it front tucked into a pair of jeans or I can style it with leggings & OTK boots. This is the perfect shirt to wear to work, happy hour, or dinner! The fabric is light weight & so comfy! I sized down one size to an x small, and it still has the perfect oversized comfy & cute fit.
I wanted to include one dress in my top 20, and it was SO hard to narrow it down to one. The Topshop Leaf Dress was my first favorite, and the O'Neil Wrap Dress for only $42 was my second favorite. You can always go back to my try on which is saved to my Instagram Story Highlights to watch the try on! I got a size 4 in this dress, and it fits perfectly. For this specific dress you either don't wear a bra (what I'm doing here) or use the sticky cups or a low back bra because the back of the dress has a really pretty cut out. For the wrap dress you can wear whatever bra you want, even a nursing bra!
Leave it to one of my favorite brands at Nordstrom to create the most adorable v neck thermal top ever. It comes in multiple colors, but OMG the camo is SO cute. I've never seen a camo thermal top before, and I am in LOVE with this one! Fits true to size (I'm wearing a small). If you want a more oversized fit, go up one size. Can't beat the under $25 price!
FREAKING in love. The fit is SO good on this thing you guys. The drape & comfort are out of this world, and it might be my favorite cardigan from the sale. I need it in ALL of the colors because it's SO good. I LOVE the slouchy pockets, the cuffs, the softness (I could go on for days & days!)
One of my favorite purchases from last year! This thing is COZY GOALS. I have it in my regular size small. It fits true to size, but if you want it to be a bit baggier/roomy you could size up one size.
Thank you guys so much for shopping through my links & supporting me. I spent DAYS picking out the best from the Nordstrom Anniversary Sale this year, and I'm so excited that you guys use me as your resource for shopping!
MORE 2018 NORDSTROM ANNIVERSARY SALE POSTS BELOW:
XO,
Lee Anne