Nordstrom Anniversary Sale 2018: 8 Best Boots/Booties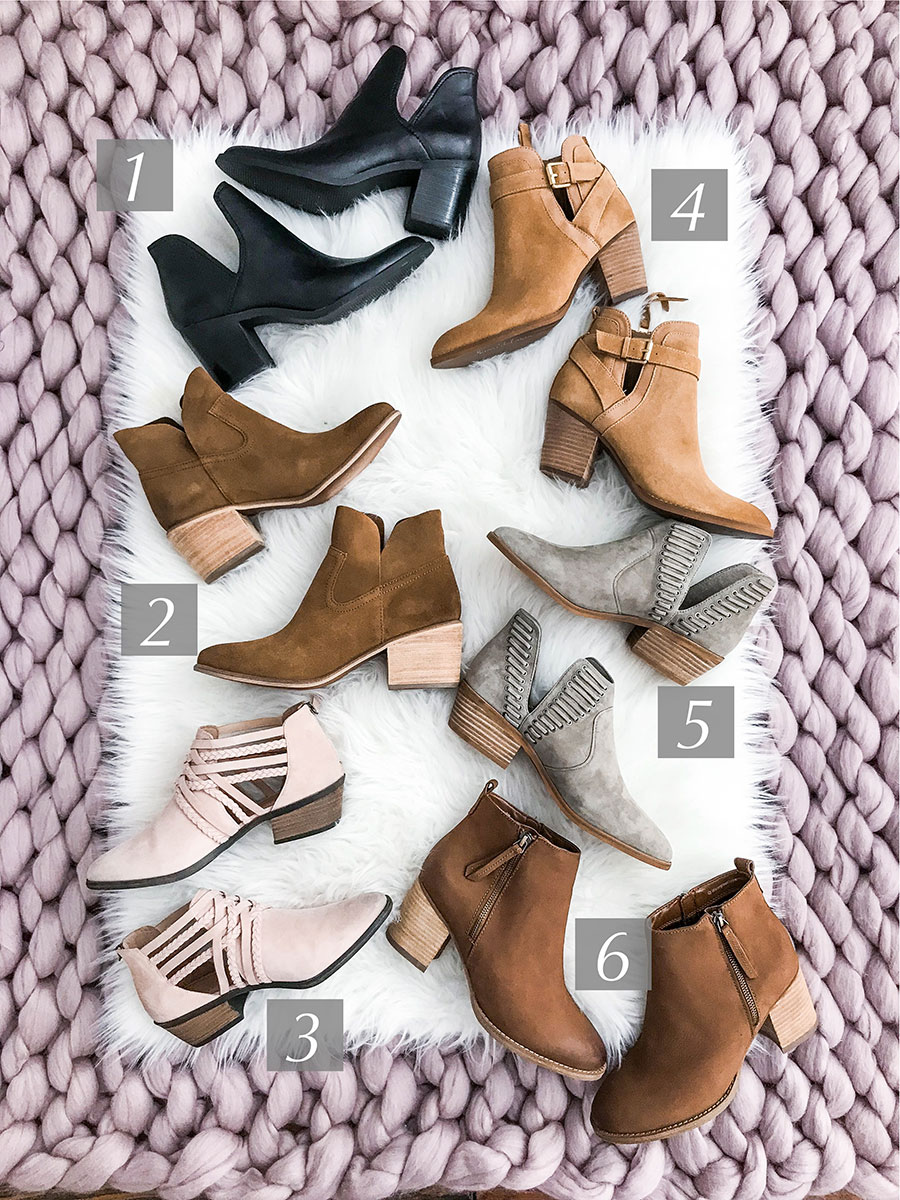 Booties & Over The Knee Boots really took the cake this year for me at the Nordstrom Anniversary Sale. These are my top 8, and you guys they are FREAKING AMAZING! Links below!
If you're looking for a dressy bootie that will go perfectly with a black moto jacket, these are your girls! Love the cut out on the side. These fit true to size!
I thought that these were $99 for the longest time…. HECK YES to them being only $79! These are probably my favorite everyday staple booties from the sale. I got my regular size 8.5 in these, and they are SO comfy. Could wear them all day, everyday! These are AMAZING & I just love the style!
These are SO cute you guys. They look like the Free People ones that I've had my eyes on forever, but the price point is way lower! I went for the pink ones because they are just SO gorgeous. I got my normal size 8.5 in these. I think that these might be a top selling bootie this year because of their price point & similarity to the popular Free People booties, so hurry!
Ahhh these are my favorite Sam Edelman's from the sale this year. The quality is always amazing on Sam Edelman booties. The heel is the perfect size on these, and they are so comfy! Such a steal for this quality under $100!
Yup, snagged these. These are my favorite "fashion-casual" booties. They have Free People/Boho vibes, but they are under $100 & SO comfy. I could wear these for hours. Scooped them up in grey in my regular size 8.5.
PERFECT everyday booties, and they are waterproof! The block heel is SO comfortable. Could walk in these all day. I hadn't heard of this brand until now, but these are GOOD! They will literally go with everything, and they are under $100!
OVER THE KNEE BOOTS:
I wanted Vince Camuto OTK Boots SO bad last year during the sale, but I ended up getting Hunter Boots instead (PS those are on sale again, linked HERE). This year… I was so excited to finally buy these for myself. They are SO comfy & the material is SO soft. They will go with everything this Fall, and I can't wait to start wearing them! Fit true to size, got my regular size!
I've wanted these for awhile now, so this year I finally scooped them up. These are SO dang sexy & cute. I LOVE them over SPANX leggings (which are also on SALE, grab the pair I wear HERE). I love wearing the SPANX leggings, these booties, and then a pretty tunic or dress over the top for cute Fall & Winter looks! These boots fit true to size, and they are my favorite black pair of OTK boots that I've ever found.
Thank you guys so much for shopping through my links & supporting me. I spent DAYS picking out the best from the Nordstrom Anniversary Sale this year, and I'm so excited that you guys use me as your resource for shopping!
MORE 2018 NORDSTROM ANNIVERSARY SALE POSTS BELOW: