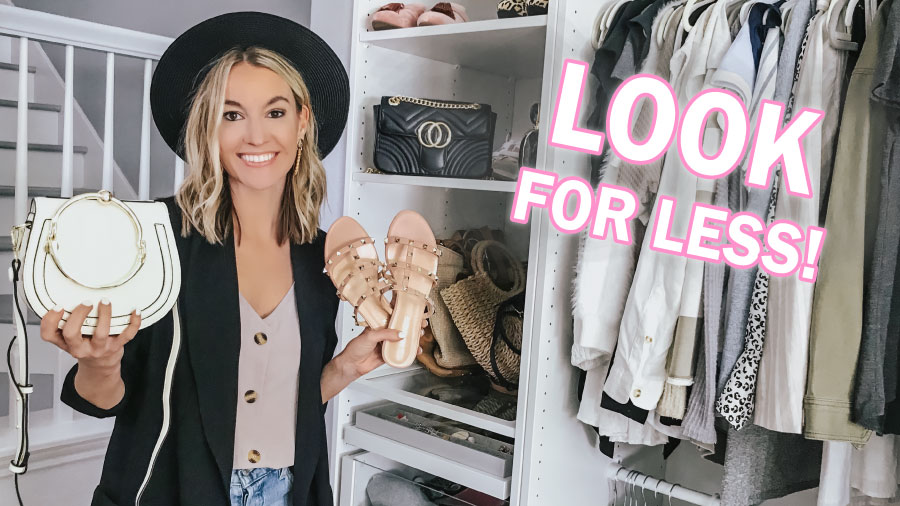 I wanted to put all of my favorite items that give you the "look for less" in one spot so y'all could find them easily. You can save SOOO much money while still getting the more expensive look! Below are some of the BEST dupes, looks for less, and designer-inspired items that I'm LOVING!
LV Neverfull MM in Azur for $1320 // Amazon Dupe for $50
I purchased this bag at the ripe age of 34 as my first designer purchase! I've finally gotten used to carrying around a full month's rent on my arm lol! I found such a good lookalike that doesn't copy the LV logo. The Amazon dupe for $50 is such a great option that looks sooo similar to the real daddy!
Sole Society Weekender Bag for $90 // Walmart Weekender Bag for $24
I've had my eye on the Sole Society Weekender Bag for sooo long now because it's the perfect weekend bag lol. It literally fits so much stuff and it looks so chic in this cognac brown color. The one thing that keeps me from pulling the trigger is the price! While I was scouring Walmart (aka my favorite retailer right now!), I came across the EXACT same bag for soo much less!!
Madewell Small Zip Top Transport Crossbody for $148 // Walmart Mini Tote Crossbody for $10
One of the most coveted brands for bags right now is Madewell. They have such great leather quality and make the BEST tote bags! I just can't get myself to spend the $148 at Madewell for such a simple bag. Walmart has the BEST dupe for literally a fraction of the price… $9.97! This is the perfect everyday nude crossbody for the summer!
Madewell Canvas Transport Tote for $68 // Walmart Emiko Tote for $18
The Madewell Transport Tote is one of the best totes on the market right now! It comes in this canvas material in this adorable army green color. This bag is a legit bottomless pit… so it makes for the perfect mom bag/summer beach bag! I'm pretty sure Walmart took all their inspiration from the Madewell Tote for their Emiko Tote. Who doesn't want to save an extra $50!?
Madewell Small Zip Top Transport Crossbody for $128 // Walmart Mini Tote Crossbody for $10
This is another color option for the Madewell Small Zip Top Transport Crossbody! Such a versatile bag… but if you don't want to spend $130 on a basic black bag, Walmart has the option for you! I'm just still in shock that it's legit the exact same look but you save $110!
Stay tuned for more "Look for Less" posts! I'm going to update this weekly!!
My Amazon Dupe Youtube Videos:
XO
Lee Anne