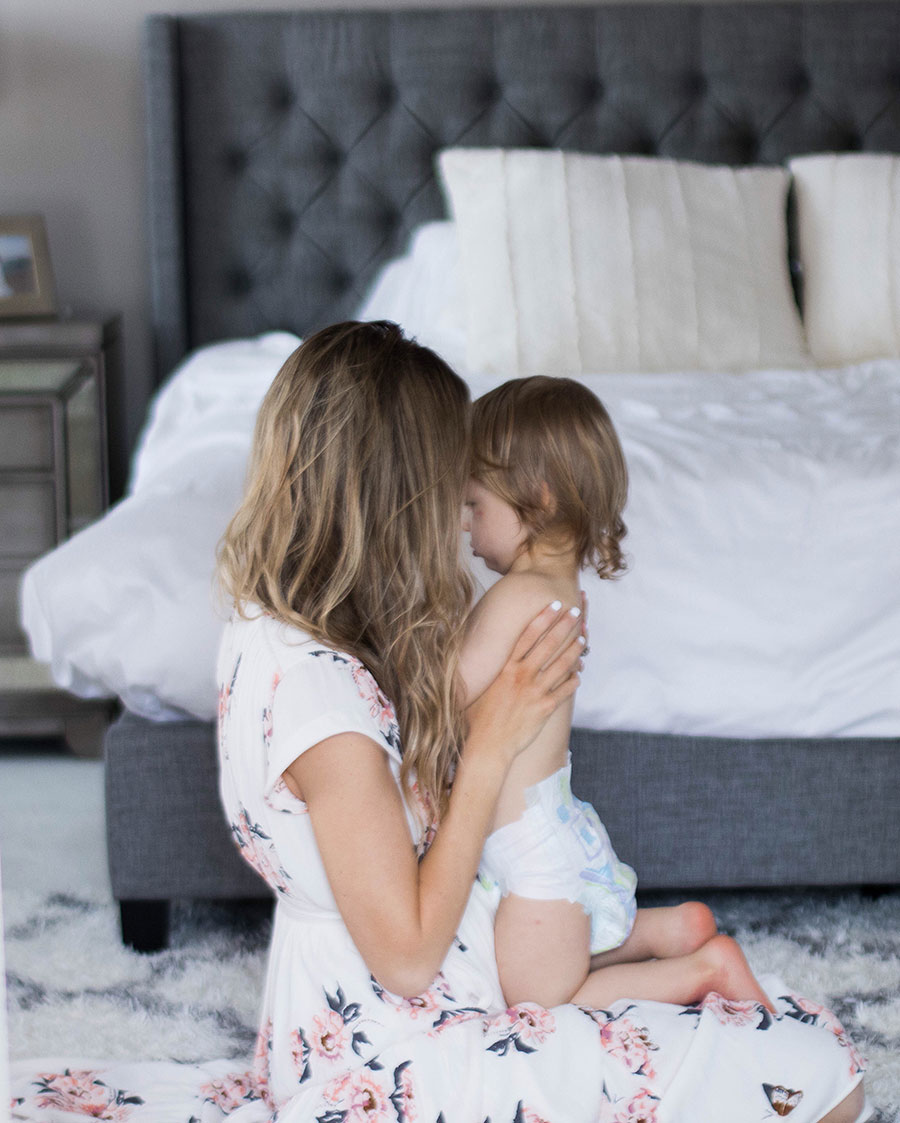 Motherhood can be a blur sometimes. It's nice to have handy dandy new mom apps to help us out here and there. Of course an app isn't going to come to your house, scrub your kitchen floor, and let you shower while it watches your children, but who does that, right? If anyone is interested in that gig, please let me know, haha.
New Mom Apps have come in handy for me throughout my pregnancy and also in the early months of being a mother to a newborn. There are a ton of different new mom apps out there, so it's always hard to know which ones are actually helpful. I've used all of these, and I'm going to tell you what I love about each one!
THE BUMP
This is one of my favorite new mom apps to use during pregnancy. During my first pregnancy I would open it almost everyday to see what's going on with baby's progress. During my second pregnancy I opened it a little less frequently, but I still checked it at least 1-3 times a week. It keeps track of how far along you are, how long you have left to go, how your baby is developing, and more. This new mom app also connects you to other mamas who are expecting around the same time as you.
WHAT TO EXPECT 
This app is pretty similar to The Bump app, but they also add in videos which I thought were really fun to watch, especially when I was expecting my first baby. The videos are pretty awesome, and show you what's going on with baby and your body each week. It's also a great way to keep track of where you are in your pregnancy, and connect with other moms due around the same time as you.
BABY TRACKER 
I used this thing religiously with Noah. It is a way to keep track of when your baby is eating, sleeping, pooping, peeing etc. It also has a built in timer so you can track how long baby nurses on each side. It came in handy as a first time mom who knew nothing about breastfeeding. It helped me keep track of his feedings, and even reminded me of which side I left off on on my last feeding. It was really amazing for Noah, so I'm excited to see if I use it with baby #2 or if I just sort of wing it this time, lol.
NEST
I use this app every single day. It goes with the NestCam that we have set up in Noah's room. It's a lifesaver. It's basically a monitor/security camera you can set up in any room and view from your phone. I can even view it when I'm out running errands. If we have a babysitter one night, and we are out with friends, it's nice to be able to easily check my phone to see Noah all snug and asleep in his bed.  It's really handy when you have a toddler who decides that instead of napping they would prefer to walk around their room and play with toys. This way you can still make them go into their room and have "quiet time", but you can monitor them from your phone, iPad, or computer.
BABYNAME
We used this app for a few weeks when trying to figure out a name for baby girl. It's fun because you and your husband both download it on your phone, and then you each go through baby names on your phone. You swipe right if you like the name, and left if you don't. This new mom app compiles the names you like & also lets you know which ones are matches that your husband also liked. It was really cool to see how Dylan and I picked so many similar names out.
I put together this list before Emma was born, but I wanted to add an app that I've been using since she's arrived! I've been loving the Hatch Baby Rest night light and app! I will be chatting more about the Baby Rest on my Instagram soon, but you guys it's amazing! It's the perfect night light for nursing, and I use the app to adjust the strength of the light at night when I'm waking up to nurse Emma.
 Any new mom apps that I left out? Would love to know your favorites! Leave them in the comments below!
XO,
Lee Anne