Snuggle Me Organic Review & Giveaway
Happy Monday babes! I hope you all had a good weekend. We spent the weekend chilling with our little family of 4. It's so crazy to think that we are actually a family of 4 now. I've honestly been loving every minute of it. Noah is obsessed with his baby sister. He is so sweet with her. He tucks her in, kisses her, talks to her, and says good morning and good night to her everyday. I was so worried that he would be jealous of her, but he doesn't seem to be jealous of her at all.
If you've been following along on Instagram since we took Emma home, you may have seen her lounging in a super cozy pillow bed. I've had quite a few of you ask about it, so I'm so excited to be partnering with Snuggle Me Organic to review their cozy baby bed, and to be giving one away over on my Instagram Feed!
There are so many products out there for babies to sleep in. It's actually crazy how many products are made for this small amount of time in a baby's life, but when you find something good like Snuggle Me Organic, you've got to get it (because sleep is KEY as a new mom)!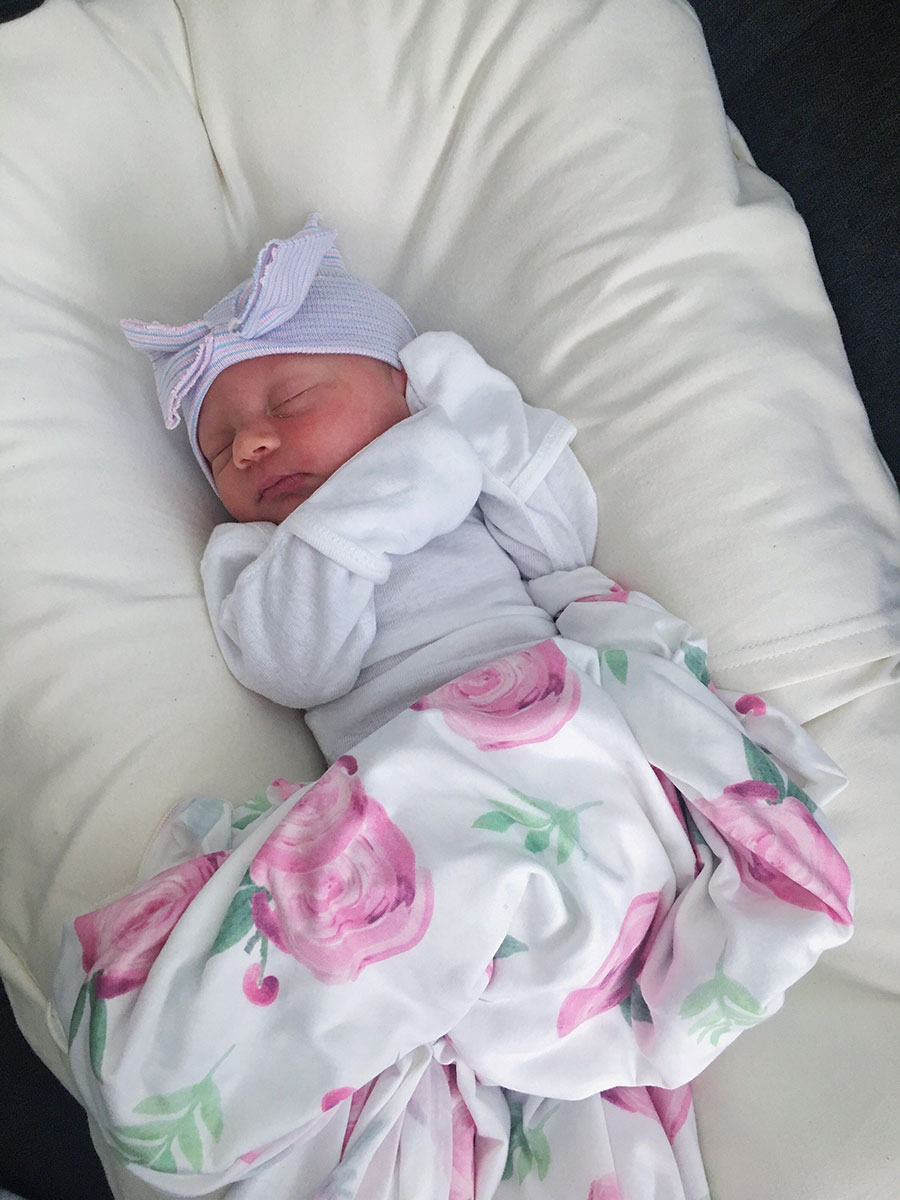 We don't co-sleep with our babies. I know a lot of people do, and that's a decision that each mom out there can make on their own. If you do co-sleep, the Snuggle Me Organic is great for it. We use the Snuggle Me Organic during the day for naps. Emma loves to lounge in it on the couch, or on my bed while I'm doing laundry or cleaning. I love how it literally hugs her, and it's SO incredibly soft! I also love how it's made with all natural, and organic fibers! You can ready more about some of the amazing features of the Snuggle Me Organic right HERE.
Like I said, we use the Snuggle Me Organic for naps during the day, and Emma loves it. We make sure that if it's on the couch, it's on a safe spot where the ottoman is also pressed up against the couch, so she's not going to fall off if older brother happens to come bopping by. She also happens to look pretty dang cute in it, so there's that lol. I'm not an expert on sleep safety, so if you want to check out more information on sleep safety or co sleeping, Snuggle Me Organic has a ton of info on their FAQ page HERE
What about you? What did your baby sleep in? Ever used the Snuggle Me Organic? Let me know in the comments below!!
If you want to win one for yourself head over to my Instagram page now to enter!
A big thanks to Snuggle Me Organic for sponsoring this post. All thoughts & opinions are my own.