A Day In The Life Of A Full Time Fashion Blogger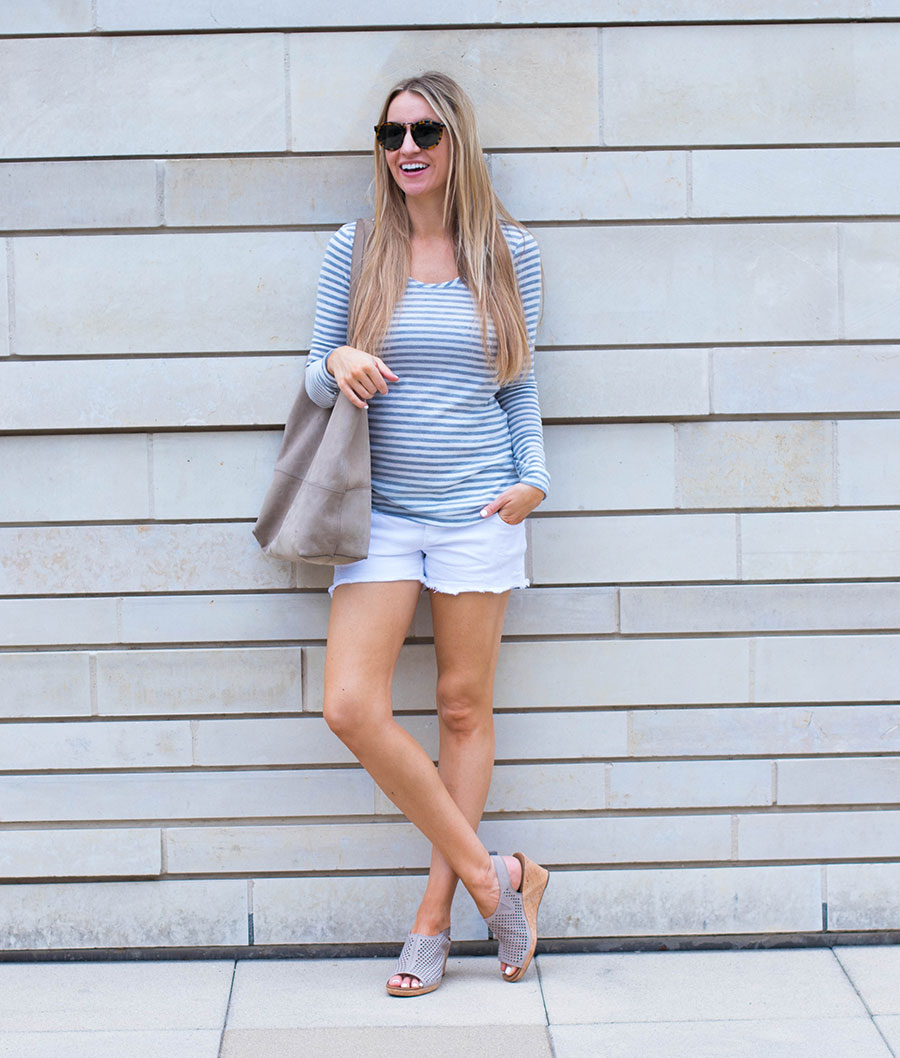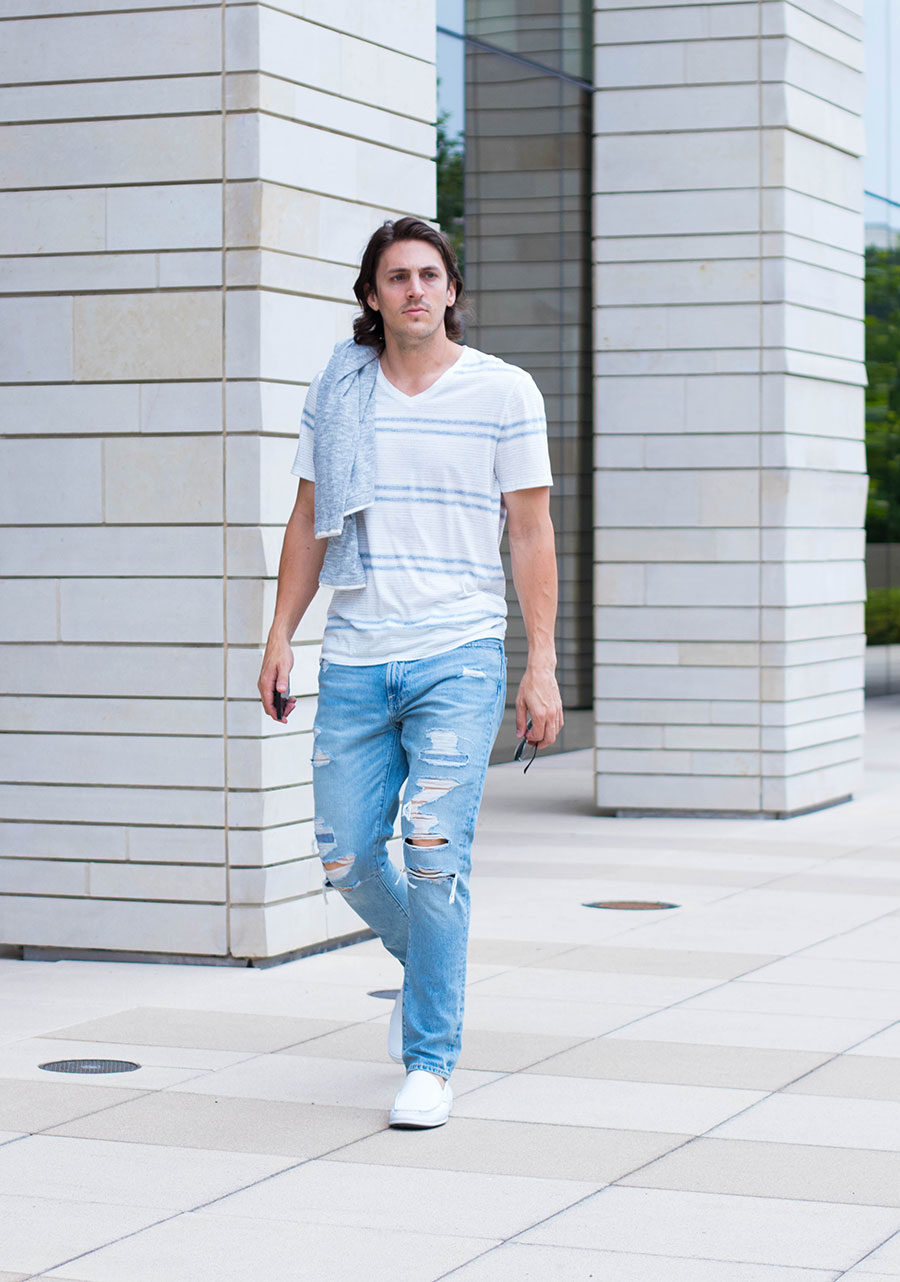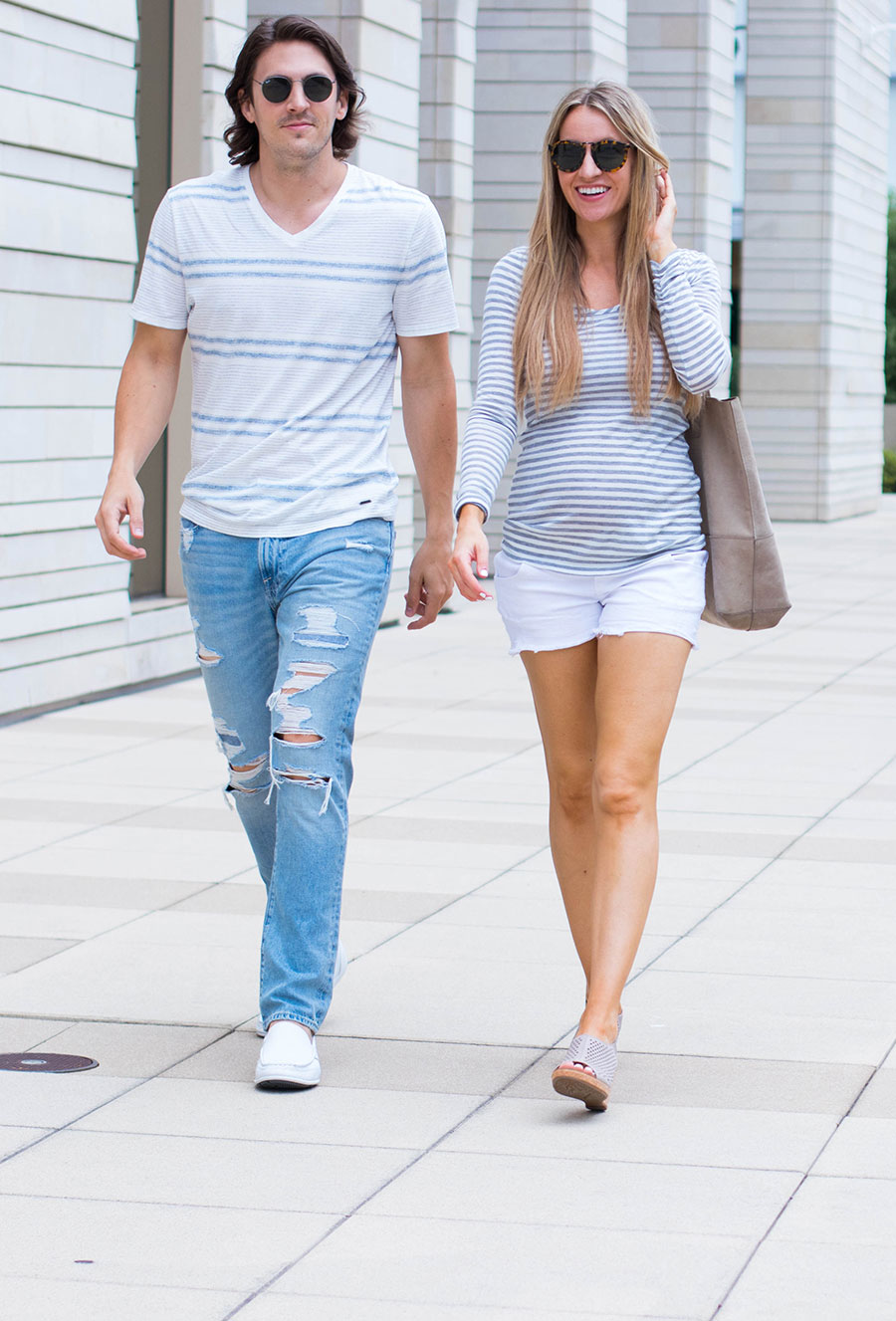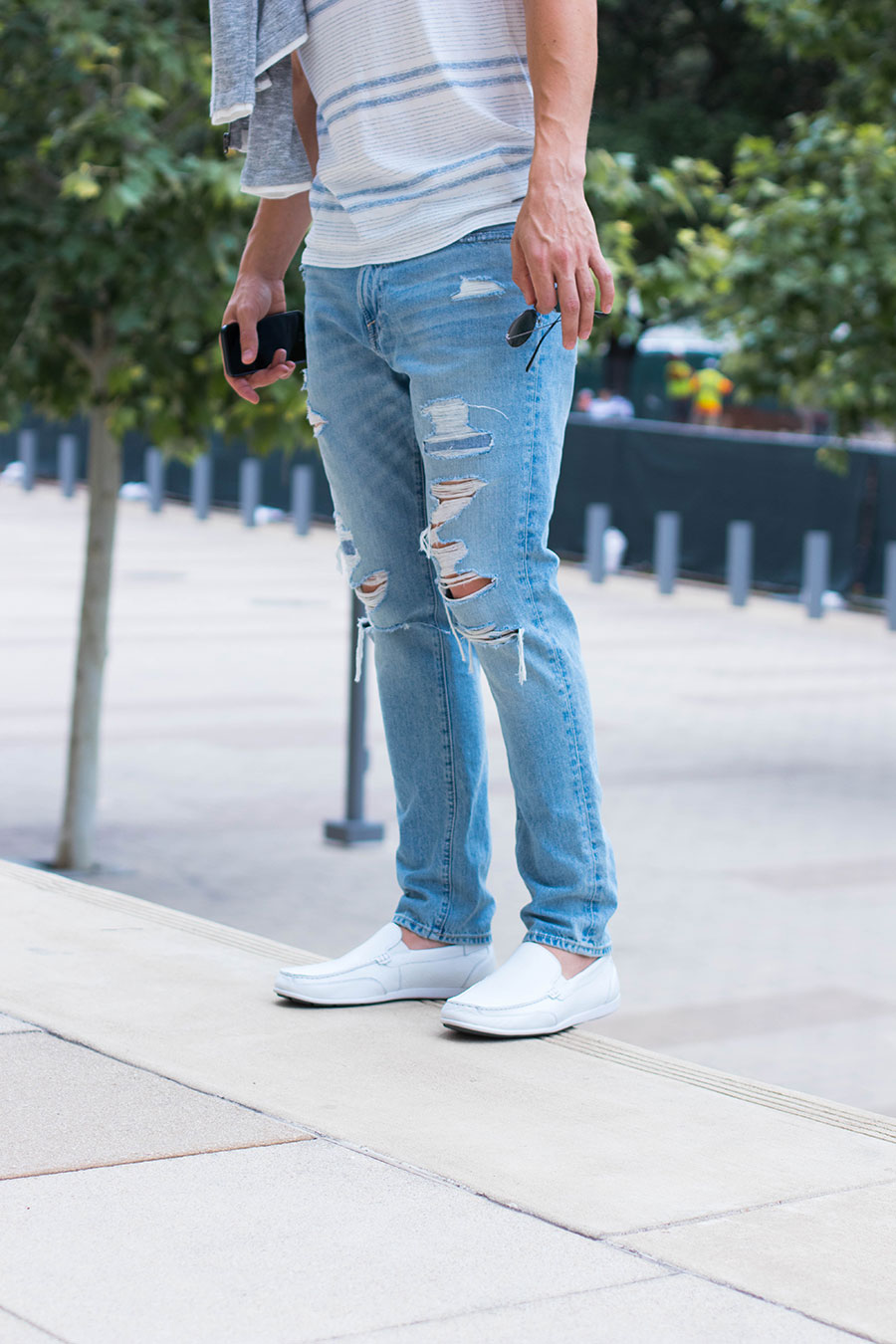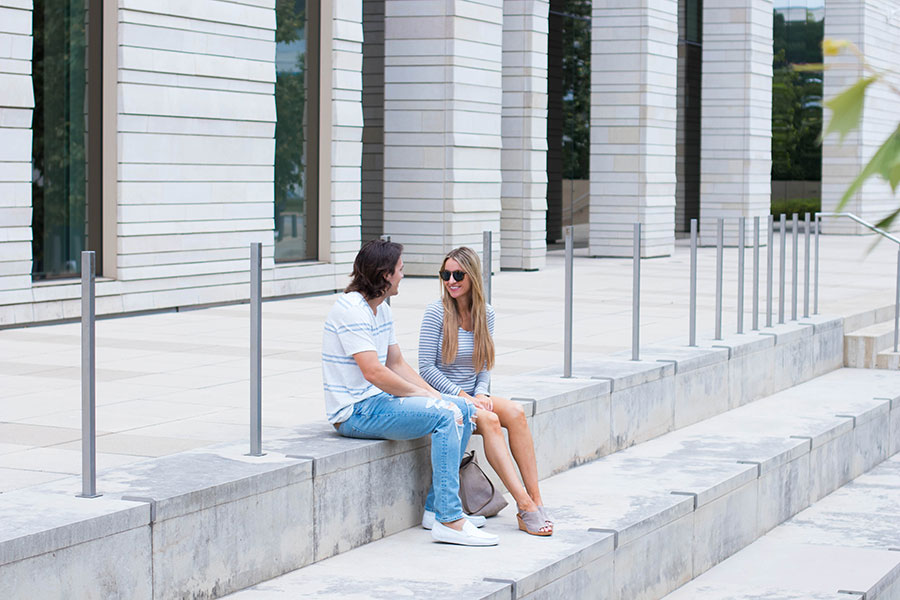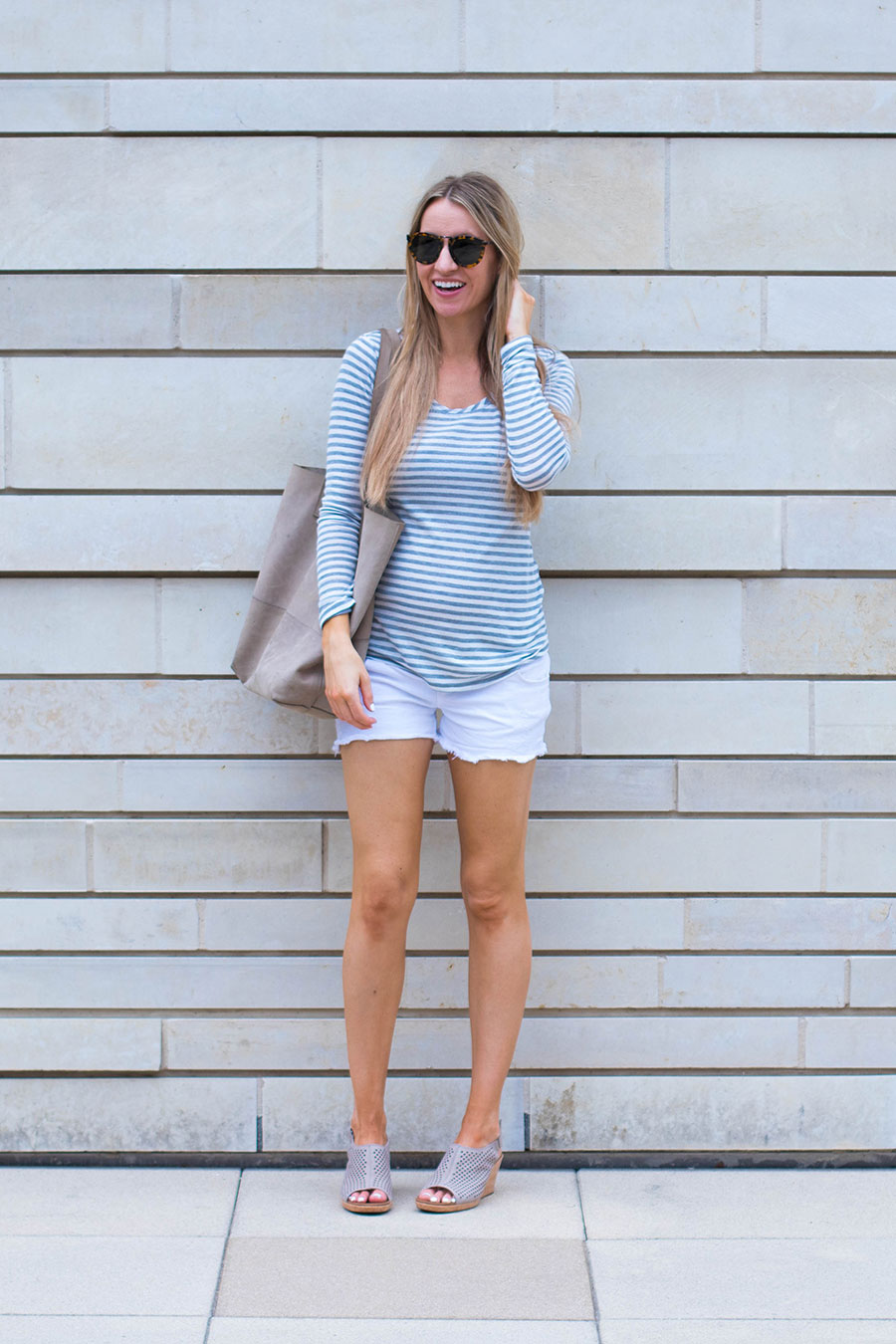 A big thanks to Zappos for sponsoring this post! Happy Thursday babes! Today I'm excited to be teaming up with Zappos & Rockport Shoes to share what a day in the life of a full-time fashion blogger is like. You guys know I'm a huge fan of Zappos, as I've worked with them a lot in the past. This is actually my second time working with Rockport shoes, so I was really excited when they reached out. To me, Rockport shoes are all about staying stylishly comfortable. Their designs fit in with current trends, but what really stands out to me is their comfort (this mama is all about comfort right now… hello 21 week pregnant belly!)
I'm a Zappos Rewards member so I get free 2 day shipping (um amazing!). I love buying our shoes on Zappos because shipping is so fast, and returns are so easy. The shoes I'm wearing are uh-mazingly comfy. I love the color because they literally go with everything! Dylan's white loafers are great because they are not only super comfy as well, but they are the perfect somewhat dressy shoe for summer! You can't go wrong with a great white loafer!
Alrighty, now I'm going to take you what it's like on one of our photoshoot days, because that's typically our longest day of the week. Dylan joins me on these days, so it's kind of like a little day date as well, which is really nice. It gives us one on one time together to work on something we both love. For those of you who don't know, my husband Dylan is also a blogger & an entrepreneur (He's launching something really cool soon, so stay tuned for that!). He takes all of my photos for my blog posts, and I take all of his.
5:30 am- 8:00 am Wake up with Noah, and make breakfast. Hang out with him for a little bit, and eat together. I also get ready during this time. I usually get ready in our downstairs bathroom so I can watch Noah while he plays. Sometimes I'll get ready in my bathroom upstairs, and Noah will take a bath while I'm getting ready. If I'm smart I will have already picked out everything I'm shooting for the day, and it will already be packed up in my car. If I'm a slacker sometimes I have to get last minute things together, steam clothes, and pack up the car. I also usually answer a few emails during this time, and make sure all of my social media posts & blog post are ready to go for the day.
8:00 am Our babysitter arrives, and Dylan and I head out for the day. This can be a stressful part of my day if Noah has been clingy that morning. When I'm actually putting on makeup & doing my hair he knows that I'm going to be leaving for work, and he can get clingy, which makes me feel so bad. Luckily he loves our babysitter, and he's always fine like 2 minutes after we leave the house.  We head to our photoshoot location which is usually downtown Austin.
9:00 am-12:00 pm This is our photoshoot time. We try to get downtown as early as possible so we can catch the good light. I typically shoot first (my hair tends to look worse as time goes by, lol). I typically shoot about 3-4 outfits. Yes, I change my clothes in my car, and sometimes it can be pretty tricky. We try to park in a parking garage, so we aren't drawing any attention to ourselves, ha! After I'm done shooting, it's Dylan's turn. Dylan is a perfectionist to the max, so he can take a little longer when shooting. I make fun of him a little bit while he's shooting, because he does a lot of walking photos, and I like to pretend he's on the runway. It cracks me up.
12:00 pm-1:00 pm We grab lunch, because I'm usually prangry (pregnant & hangry mixed)  by this time. One of my favorite places to grab lunch downtown is at Whole Foods. I love making a big salad, and getting a side of soup! Dylan usually brings in his computer, and we start to pick out our favorite photos from the shoot while we eat lunch.
1:00 pm-3:30 pm We find a coffee shop to work at. Dylan usually edits our photos from that day, and we work on other stuff. I usually am working on writing blog posts, scheduling social media posts, emailing with brands, working on invoicing/contracts, planning future content, etc..  We leave the coffee shop to make it back home to our babysitter.
4:00 pm- 7:00 pm We head home to our little man, and let our babysitter go home. This is one of my favorite parts of the day because I love coming back home to him after we've been out for the day. He's always so sweet, and so happy to see us. Lately since the weather has been nice we've been heading out to the park or to take a walk with Noah once we get home. We make dinner, and hang out with Noah until he's ready for bedtime which is usually around 7 pm.
7:00 pm-10:00 pm Dylan and I usually jump back on our computers and get work done during this time. On photoshoot days we don't have a ton of time to get computer work done, so we typically work in the evenings before bed. It's not always fun to work at night, but it's what you gotta do to get everything done. I have forgotten what it's like to watch tv in the evenings since becoming a blogger. At least it saves money on the cable bill 😉
Thanks so much for stopping by today friends, have a great day!
XO,
Lee Anne