20 Things You Might Not Know About Me and Dylan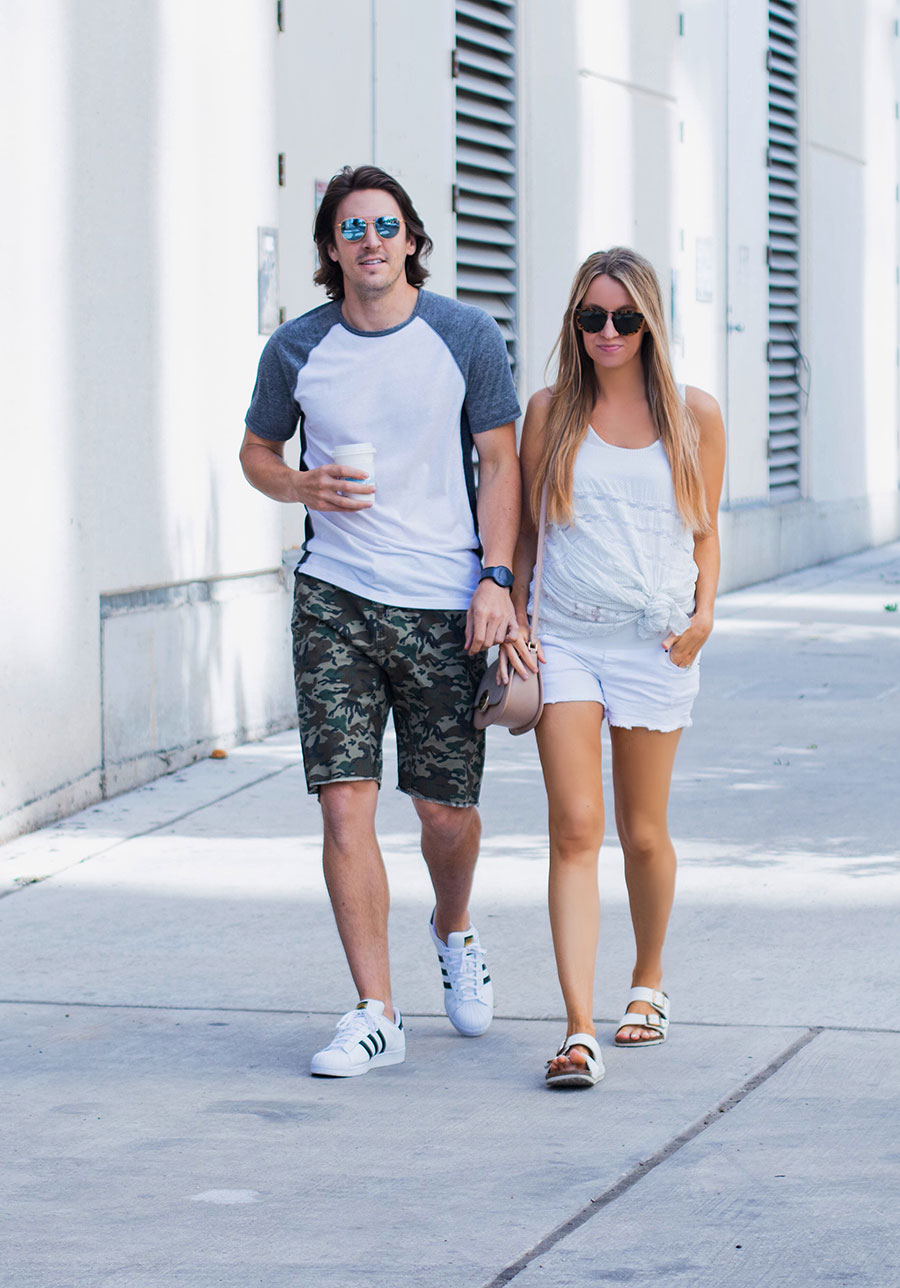 I had so much fun writing my 20 Things You Might Not Know About Me post, so I thought it would be fun to write another one about me and Dylan. As you may or may not know, Dylan is also a blogger. He started his blog on the side about a year ago, and he truly enjoys it. I love that we can experience this crazy industry together, and that he's so supportive of what I do.  You can find his blog HERE. Alright, let's jump into it!
Dylan and I met in 2005. We met at a friends house in Indianapolis, and we all went to a Dave Matthew's Concert together. Dylan and I didn't hang out much during that first meet up, but we kept bumping into each other when we got back to school in Bloomington a few weeks later. We ended up dating not long afterwards.
We got married in 2010 in Runaway Bay, Jamaica. We had about 25 close family members and friends with us, and we all stayed in 3 houses we rented along the beach. It was such an amazing week, and we highly recommend a destination wedding!
We've lived in a lot of different cities together. For awhile, we were totally living the nomad life. We've lived in Bloomington, Indiana; Louisville Kentucky; Portland, Oregon; Fort Wayne, Indiana; Rockville, Maryland; St Louis, MO; and now Austin, TX. Austin has been our longest city we've stayed in, and I think we've decided it might be home for us.
We love doing simple things together. We literally have fun doing nothing.
Dylan proposed in Hawaii. We were visiting his sister who was living there at the time. He had the ring in his pocket during most of our stay, and he ended up proposing on Waikiki Beach one of the nights we were there staying at the Hilton.
We totally moved back in with our parents as a married couple. Yup… It was an interesting few months, but it was necessary while we were figuring out our next move.
We're highly supportive of each other. Neither of us have ever really loved traditional jobs, and we both have had to sacrifice & be patient with each other while we've built our own businesses. We've been though lots of highs & lows, but it's only made us stronger as a couple.
Dylan has made me so much more spontaneous. In college, he would literally call me at 10 pm saying he was on his way over and we were going to the grocery store.  Most times I was already in my pajamas, but I would drag myself our of bed, and join him. It was always fun.
Dylan is an extrovert, and I'm an introvert. He loves going to parties and networking events, while I would rather stay at home. He's always the chatter at the group get togethers, whereas I'm more quiet.
The first time I met Dylan's family, I instantly felt at home. I was so nervous, but his family welcomed me with tequila shots, haha.
Dylan used to be very accident prone. There's an ongoing joke in our family that during special events, Dylan is probably going to get injured. He chopped off a big piece of his thumb just a couple of days before our wedding in Jamaica, and even sprained his ankle really bad and had to go to the hospital during my sister's bachelor/bachelorette party.
We love to cook together, and have really perfected our bean dip recipe.
We almost moved to New York City instead of Austin, Texas. We even started selling our cars because we wouldn't need them there. Dylan was supposed to start a consulting job in NYC, but we ended up moving to Austin for him to work with some of his old business partners again instead.
Dylan is allergic to basil, which makes eating Italian (my favorite food genre) pretty difficult.
I'm older than Dylan by a year and four months. Totally robbing the cradle over here, lol.
I'm extremley close to Dylan's mom. She feels like a second mom or best friend to me. Our moms are also very close, and they always talk about how they feel like sisters.
How many Bruce's do you know? The only two I know are my step dad, and Dylan's dad. It's so funny that they have the same name.
In our early dating years we spent a lot of time hanging out on the lake. Dylan grew up on a lake in Indiana, and my family moved to a lake when I was in college. I learned how to wakeboard on Dylan's families lake, and we have some of the best memories from those summers.
Our first lunch date was at Panera Bread, and we ordered the same thing.
We both have a brother and a sister. It was perfect at our wedding because my sister walked with his brother, and his sister walked with my brother.
SHOP THE POST:
Dylan's Color Block Baseball Tee (on sale for $15 and so flattering!) // Dylan's Camo Shorts // Dylan's Adidas Superstars // Dylan's Sunglasses // My Lace Tunic (wearing it knotted here, and I love it!) // My White Denim Maternity Shorts // My Blush Pink Cross Body Bag (under $50 and so cute!) // My Karen Walker Sunglasses // My White Birkenstocks (my go-to sandal for summer!)

I hope you enjoyed learning a bit more about us today. There's no person on this earth I'd rather spend my life with than Dylan. I'm so thankful everyday for him!