How To Spruce Up A Concrete Patio
Recently we moved from an apartment to a house. We were so pumped to finally have an outdoor space, even if it was just a tiny concrete patio and a yard full of dead grass. In our previous place we had a tiny balcony so we didn't really focus on outdoor decor.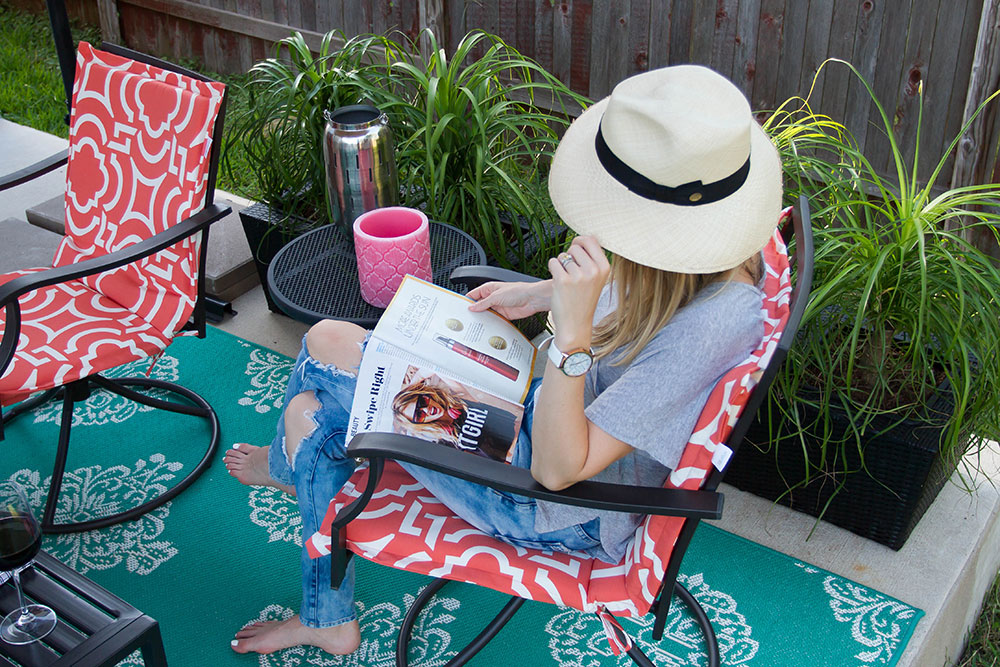 When we decided to spruce up our patio, we knew that we didn't want to spend an arm and a leg. We are renting our house, so we had to keep that in mind, and not do anything really permanent. Everything you see in this post besides the old black chairs, black table & plants are from At Home Stores. Just wait until you see what the before looked like!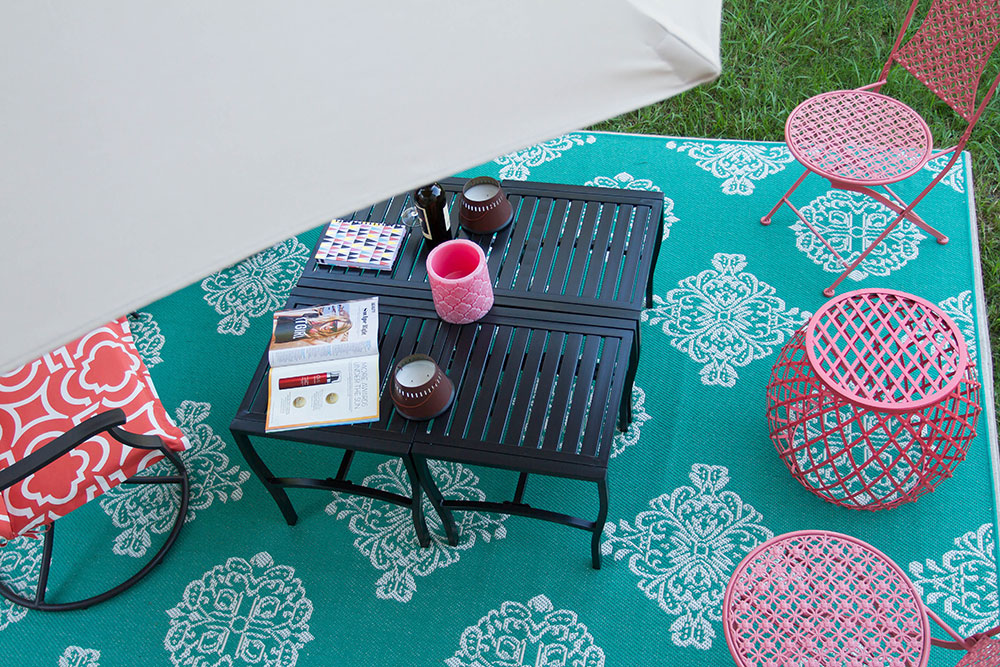 Before moving to Texas I had no idea what At Home Stores was. I was extremely pumped when I first walked into the store in Austin. It's basically a Costco sized store filled with affordable home decor… basically it's what dreams are made of!
Okay guys… here's the before picture! Don't judge, haha! We had this little set on our patio at our apartment and it worked perfectly then, but it just wasn't filling up the new space.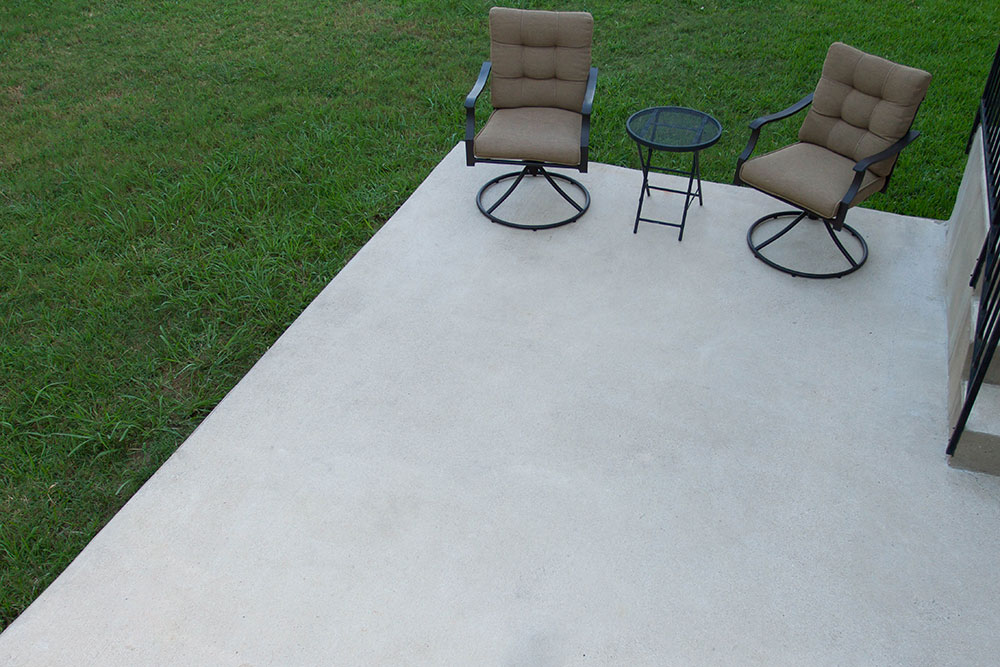 Talk about a transformation! Looks just a tad better, huh?? We were able to keep the chairs and just add new cushions, and also keep the little table, so it was perfect!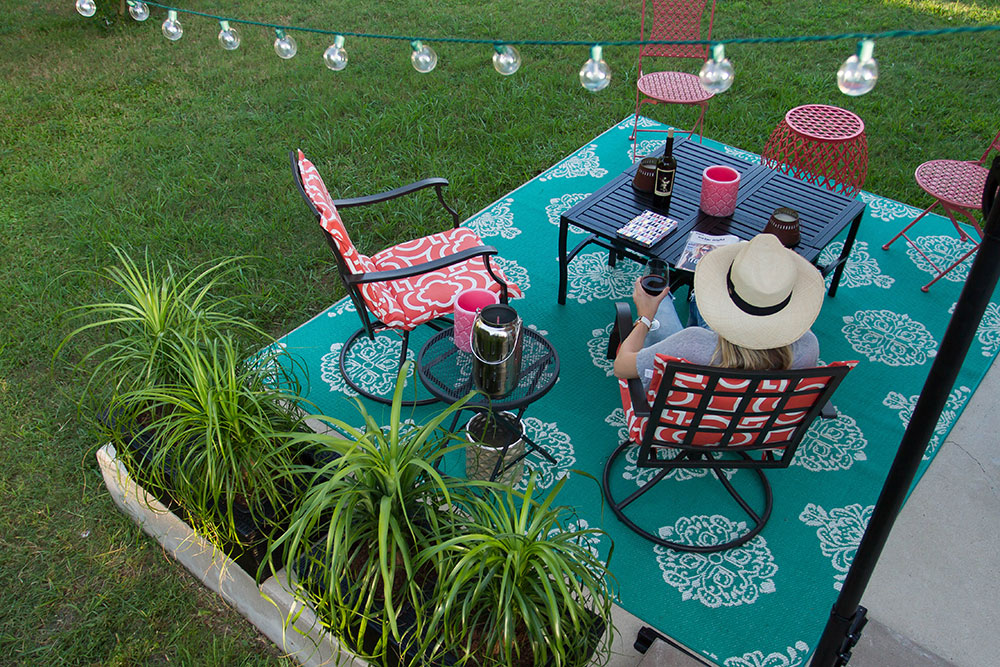 The first thing we needed to find was a good outdoor rug. The concrete isn't cute, let's be honest. I think we found ours for $100, which is an awesome deal. The color is so bright and fun. We wanted to add another bright color to the patio, and when I found these pink chairs it was a done deal. I think they were $40 each, so not bad at all!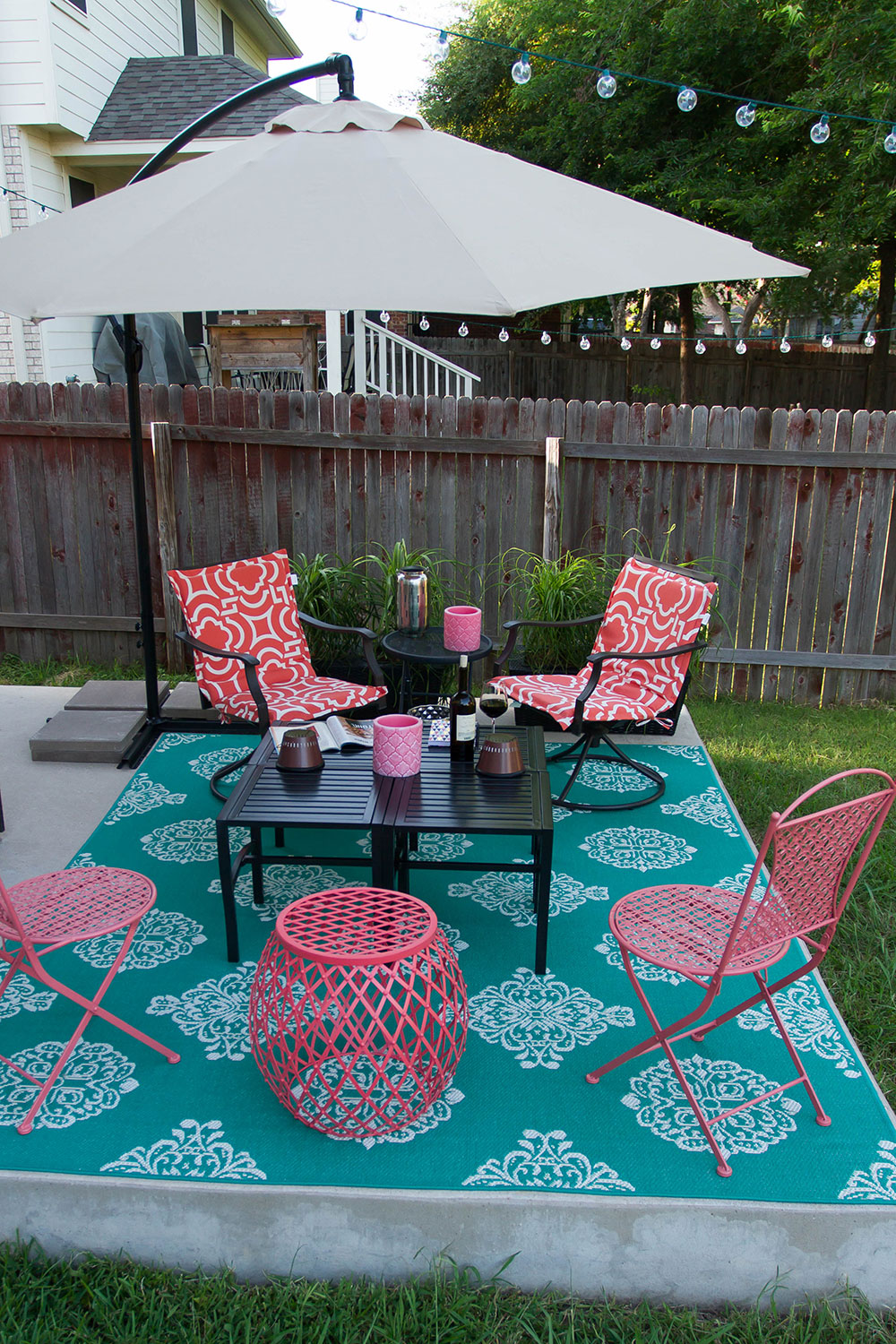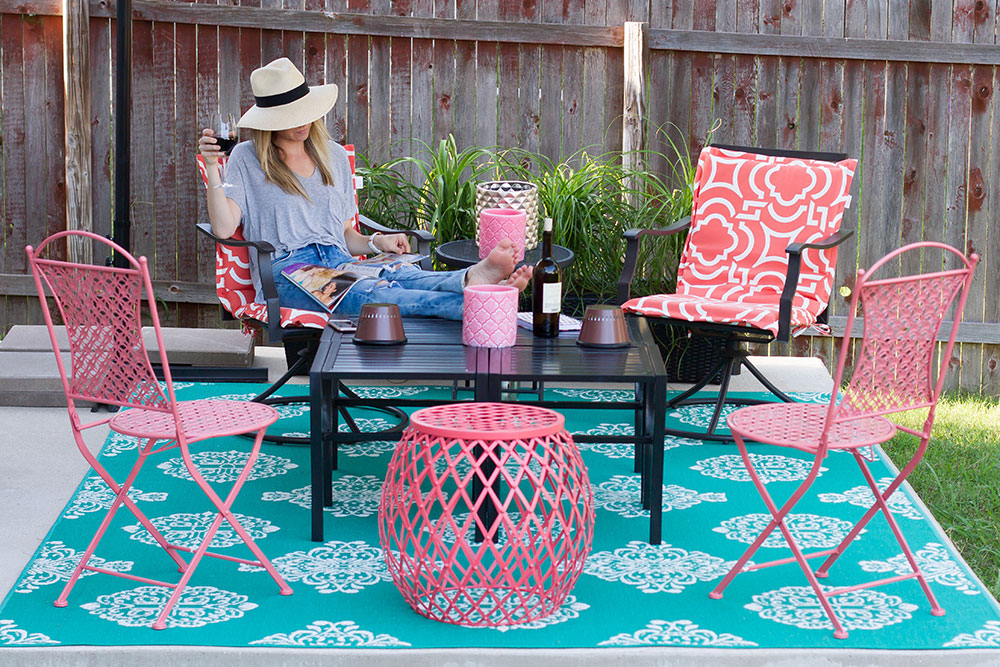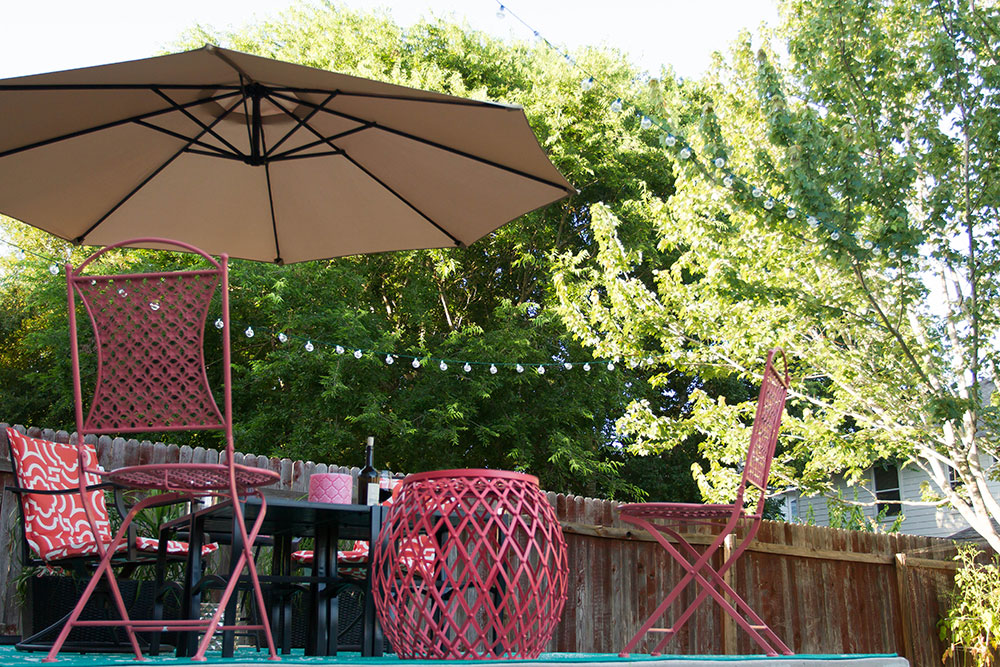 Living in the middle of Austin with not much shade, we desperately needed an umbrella. The amount of shade that this one provides is perfect for our patio. It's so nice to be able to sit outside during the day, and watch Noah play in his little pool without roasting in the sun .
For the center table we actually put four smaller tables together to make one. That was my husband's genius idea, ha. He really is quite the decor buff! We also added the pink candles, planters, and little gold planter as accents.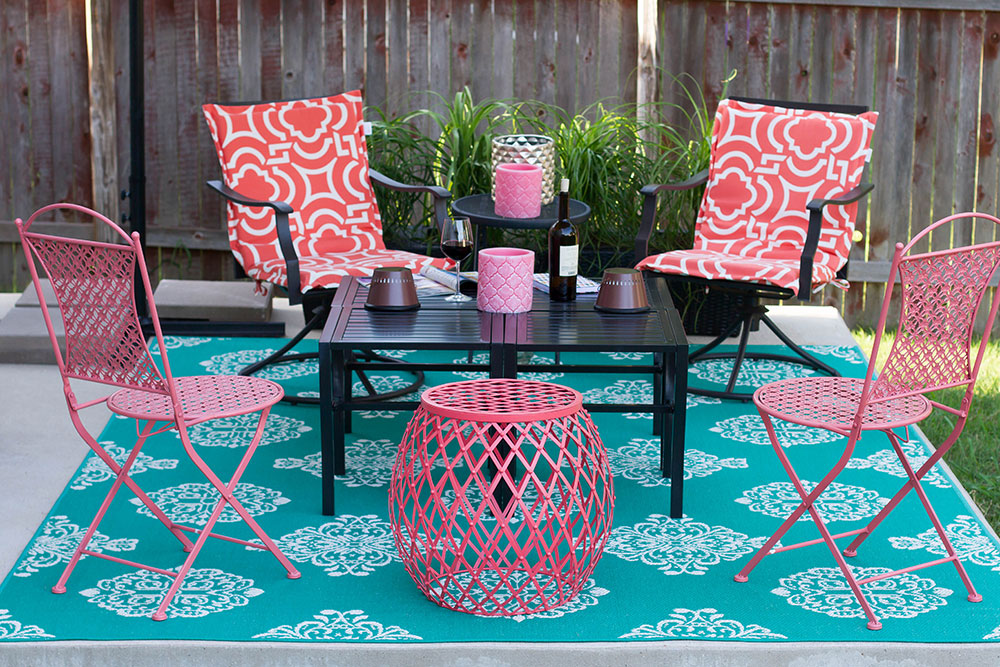 What do you guys think? We are so happy with it! I find myself sipping a glass of red wine and enjoying a magazine or book after putting Noah to bed in the evenings outside all of the time now! It's so nice being able to extend your living space outdoors. I'm looking forward to spending some time outdoors here in the Fall too… when the temps drop below 90!
This post is brought to you in partnership with At Home Stores. All thoughts & opinions are my own.