Affordable Living Room Decor Update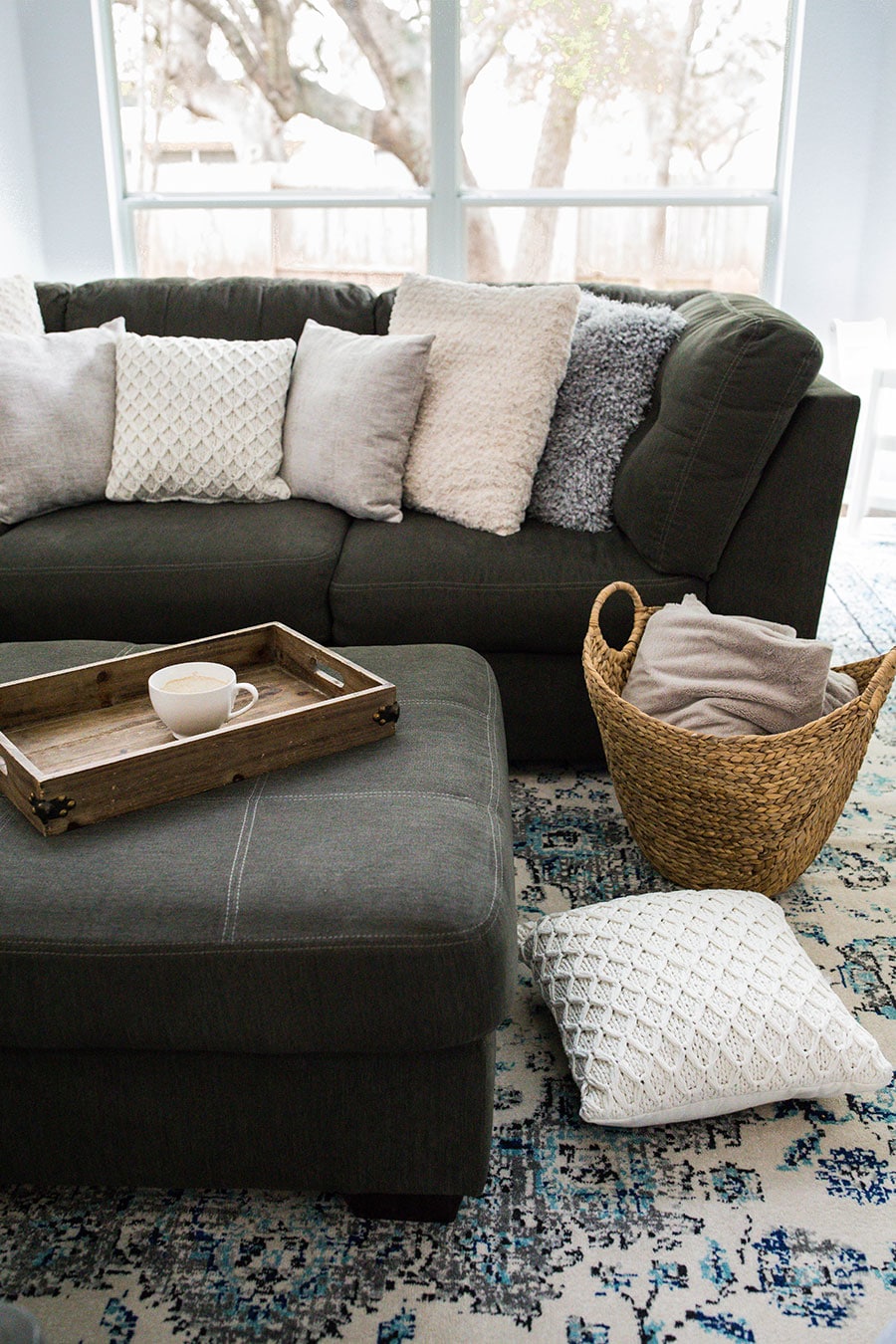 Hi friends! Happy Wednesday! Today I'm so excited to share a little peak into our living room with you guys. For those of you who don't know, we bought our house 7 months ago. We did a fair amount of renovating in the beginning months, so now we are finally onto the decorating! I'm so excited to partner with Walmart today to share some affordable pieces we added to our living room!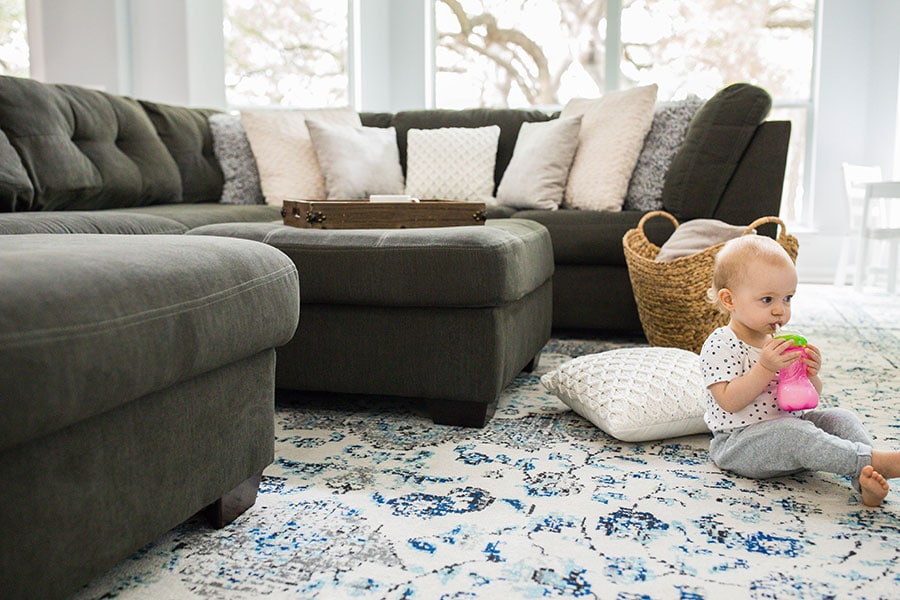 You guys know I've been obsessed with Walmart lately! They have totally upped their game in the fashion & home categories! Have you looked at their stuff online recently? I get so excited when I pick out stuff to share with you guys from there. I know we all love a great deal, but we don't want to sacrifice on quality! This is where Walmart has really been killing it! Not only is everything really affordable, but the quality has been awesome!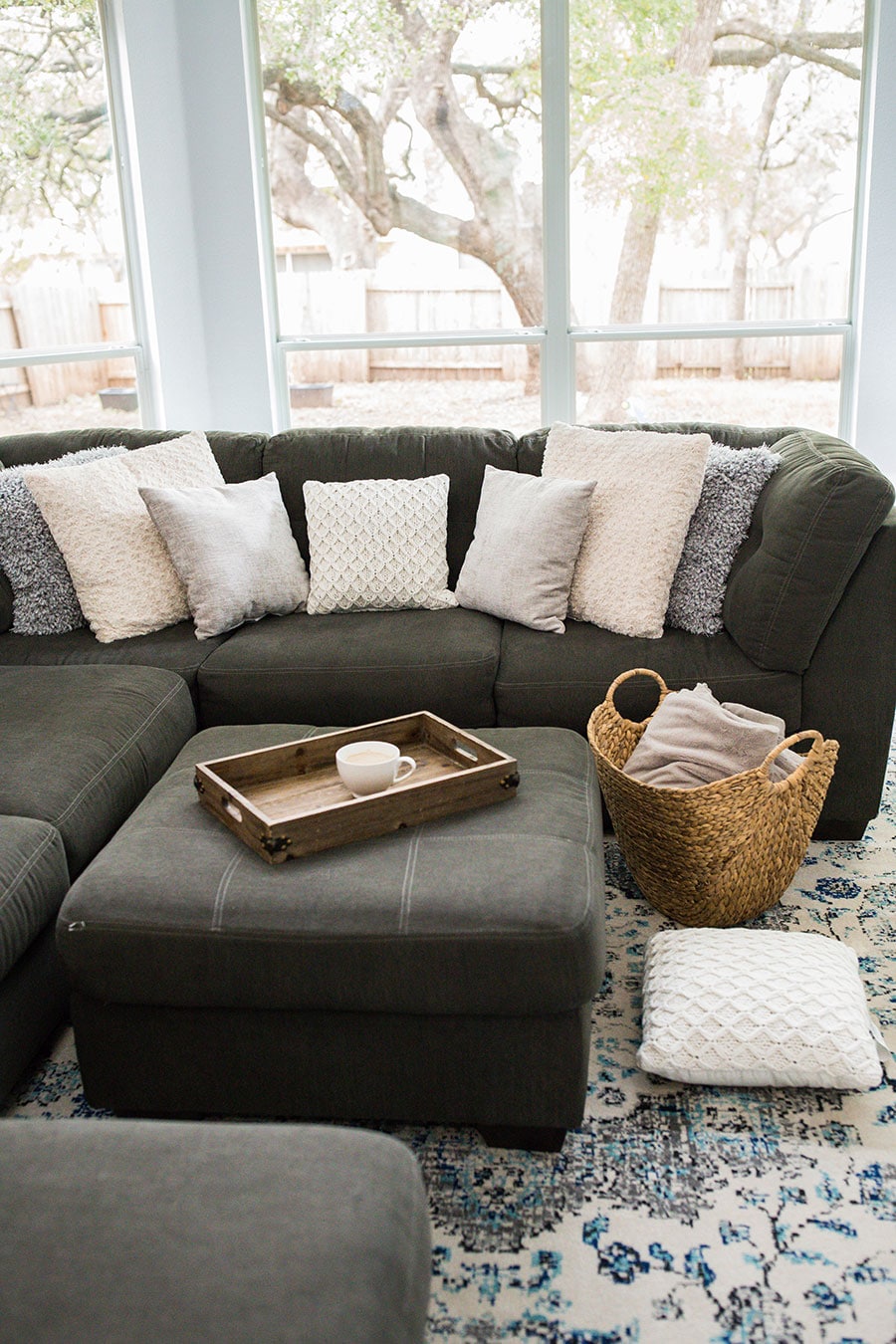 The first problem we needed to fix in our living room was the rug. We were still using two rugs from our old house. They were different patterns, and it was starting to drive me crazy. Neither of them were really the right size because our living room is so big. We also needed a rug that was big enough to go completely under our furniture so our couch wouldn't slide apart when we sat down on it. I found this one, and fell in love. The really awesome thing about it is that it comes in so many sizes & shapes.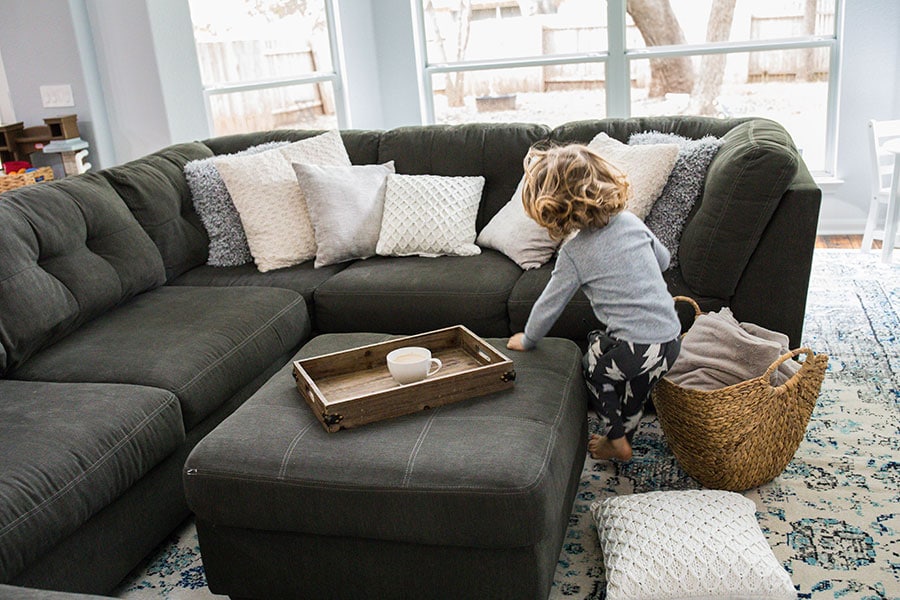 The rug also comes in 3 other colors. It has "farmhouse-chic" vibes in my opinion. I also really love that the color is somewhat off white/beige so it will hide dirt/possible stains. We ended up getting the massive 12×18 size, and also bought a super comfy rug pad to go under it (also from Walmart). I was so excited that the rug was so affordable so I could get a rug and a rug pad for cheaper than just a rug on other sites!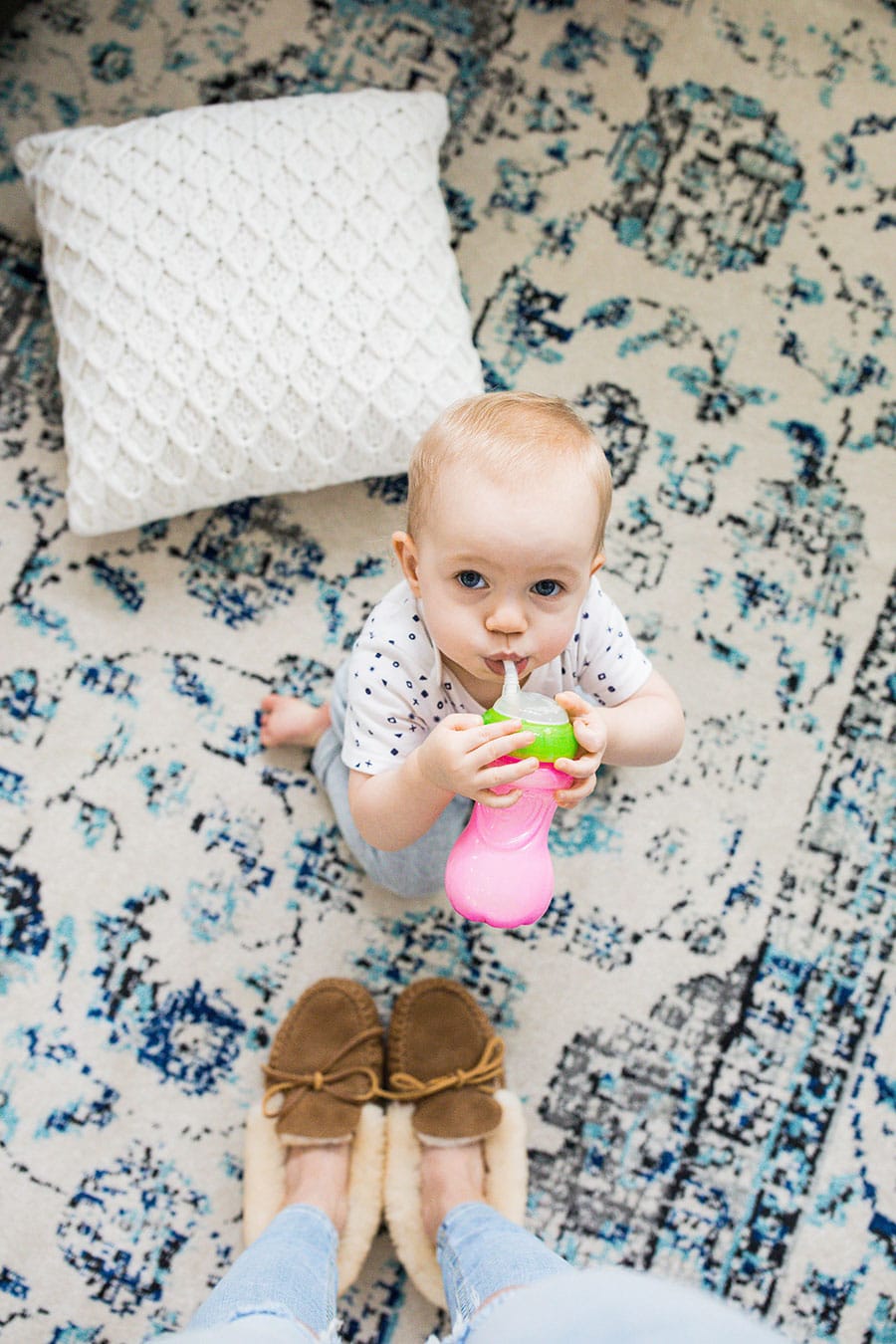 I also added a lot of throw pillows in the grey & white color palette. I found so many good ones, and I'm linking all of them below for you guys. They were so affordable, and the quality on them is great. My favorite is probably the grey shag one. Emma loves to cuddle with all of them! The smaller grey ones come in a pack of two, and they have more color options! I love that these are really versatile, and that I can also use them in bedrooms.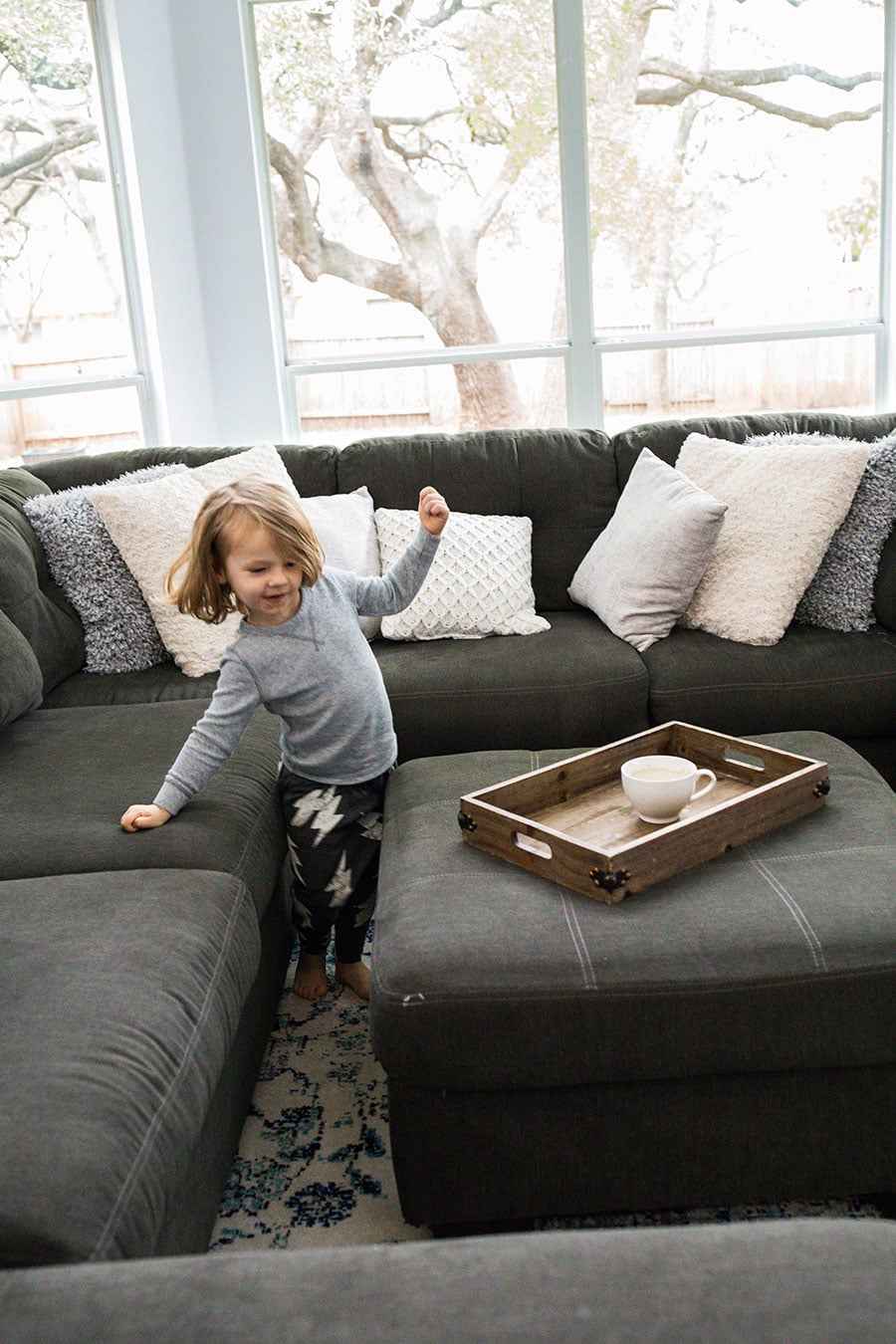 I also picked up these frames to create a new gallery wall by our dining room table. If you guys remember on Instagram Stories I've been asking what we should do with that area. I've been obsessing with gallery walls lately, so I decided to snag a new set of frames. This one is by the same brand of the last frame set I got for Noah's room from Walmart. I love this brand because it comes with a helpful guide when creating your gallery wall. It's like a giant piece of paper that you can tape to the wall so you are able to map out the gallery wall, and know where to put each frame.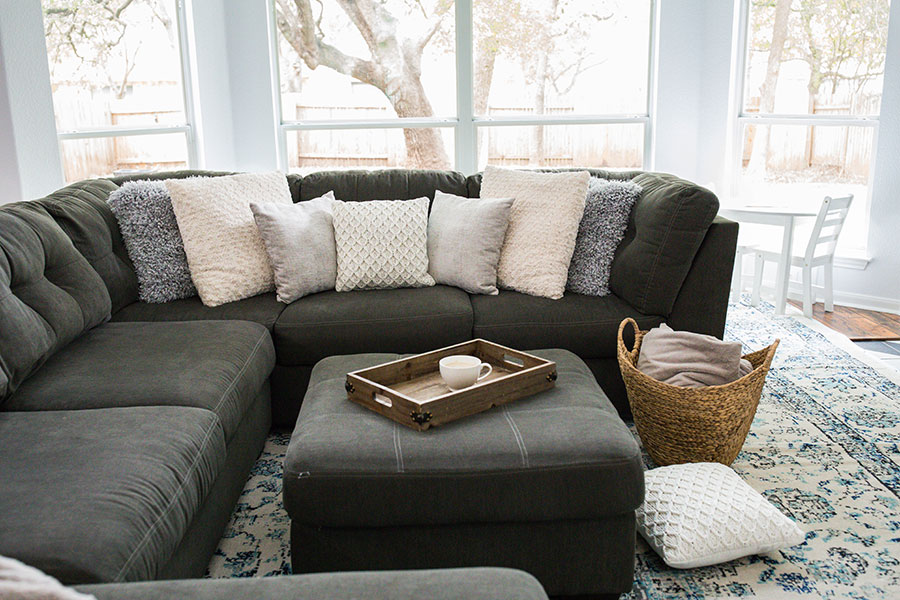 I'm also linking a set of very similar trays to the ones we use in our living room every single day. Since we have an ottoman instead of a coffee table, we used these all of the time for our coffee cups & snacks. I love this set available at Walmart because you can get two trays for only $28. They look just like ours too!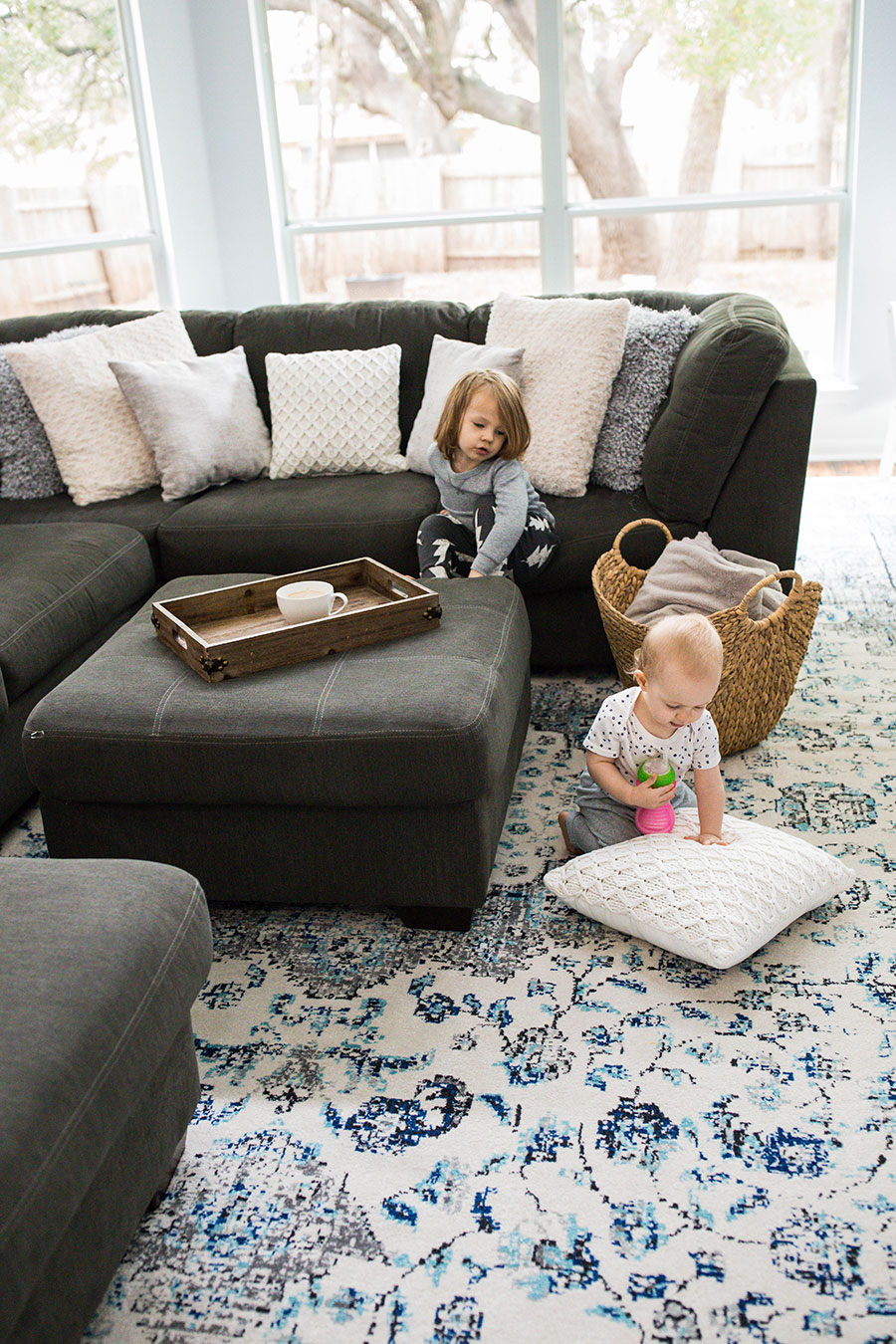 I'm so happy with the way everything turned out! The rug feels SO comfy that Dylan and I have been making a comfy spot on the floor each night after the kids go to bed to watch This Is Us. We prop up some pillows next to the couch, put the trays on the ground, make some snacks, and relax! The pad makes the rug SO plush too! Seriously loving the new set up, and so excited to decorate the next room in our house!
Thanks for stopping by today guys!
XO,
Lee Anne
A big thanks to Walmart for sponsoring this post. All thoughts & opinions are always my own.