5 WAYS TO GET MORE BLOG TRAFFIC FROM PINTEREST
I've been a huge fan of Pinterest since I signed up for an account. I've spent many hours browsing for inspiration, looking for recipes, and getting outfit ideas. There are a ton of great Pinterest tips out there, but I wanted to curate a list that would be very blogger specific. Hope you enjoy these and let me know what other tips you would add!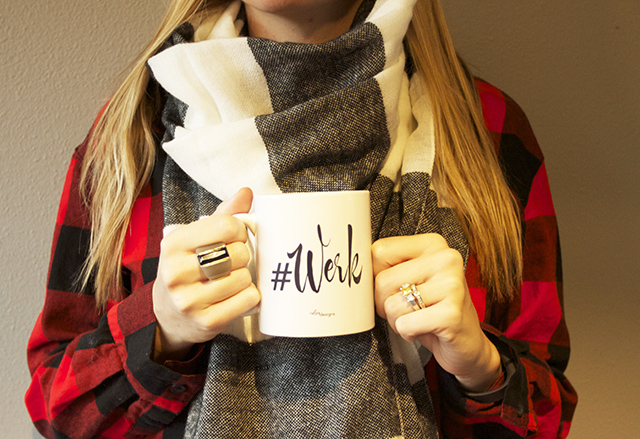 Also… if you're wondering where this adorable coffee mug is from, it's from Celise Designs. It just so happens I'm giving away one of these adorable mugs on my Instagram. Head over to my page to enter to win one!
1. Create "Pinnable" Images
People love going on Pinterest for inspiration or to find things that they will go back and look at later. If you're pinning a blog post about how to style a blanket scarf make sure to add text over the image so that they know there is some sort of informational content behind the pin. I love to use PicMonkey for this. It's super easy to use and you can easily upload the photo from your blog and add text. Make sure the text pops out and play with colors & fonts until you find the perfect look.
2. Add a Good Pin Description
Never leave your pin description blank. Make sure to describe what the pin is about in your description, but also leave a little bit of mystery so that someone would want to click on it to learn more. Make sure to use keywords that are relevant to your post, are popular on Pinterest, and that are trending. If you are pinning a Holiday Gift Guide make sure to include the words holiday, gift guide, christmas, shopping, etc… in your pin description.
3. Create Taller Images
It's a known fact that taller images are repinned more often than short images. If you don't have tall images, create them! Group together images from a blog post in one long image to increase repins. You can use PicMonkey or Illustrator for this.
4. Join A Group Board Related To Your Blog
Search for group boards that are relevant to your blog and ask the board owner to add you to the group. Oftentimes group boards have a lot of followers so as soon as you pin something your pin should get a lot of interaction as long as it is relevant to the board's theme. You can also create your own group board and invite other like-minded bloggers to join. You can use Pin Groupie to find popular group boards to join on Pinterest.
5. Take A Pinterest Webinar & Educate Yourself
If you're serious about your blog and using social media to promote your blog posts I encourage checking out a Pinterest Webinar or reading well-written articles on using Pinterest. A webinar I've taken on Pinterest and that I highly recommend is The Power Of Pinning . It's a little pricey but you could always split the cost with a couple of blog friends. You will still all have access to the program by sharing the log-in.  I also like reading articles on Social Media Examiner, Mashable, and IFB.
What are some of your Pinterest tips? Have you tried any of these? Would love to hear your thoughts in the comments!