I Ate Pizza In a Garage on Valentine's Day & I Loved It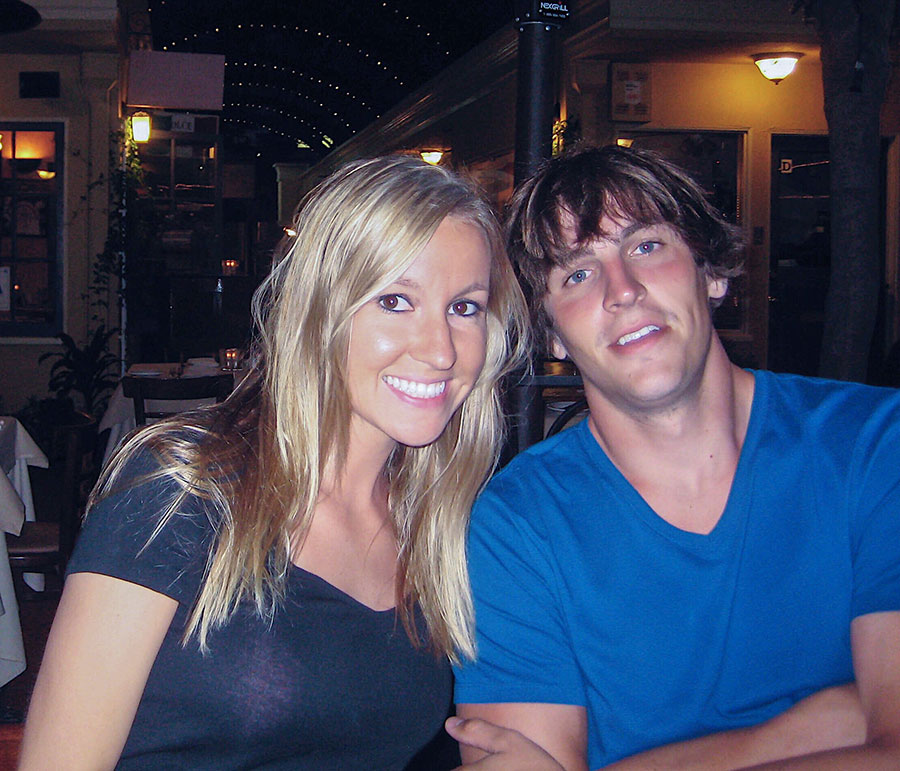 OMG how young do we look!? This picture was taken on a trip to California. I think it was between the year we got engaged & the year we got married.
This is a guest post from my husband Dylan. You can see more of his posts on his blog LifeByDylan.com
Valentines day is upon us again. For the "typical person" that involves something along the lines of flowers, a fancy dinner, and a romantic evening. I'm not a typical person. When I took my now wife Lee out on our first Valentines day together (over 11 years ago) I did exactly what you're told not to do, and I think it was one of the best ones we had.
To start with, we didn't have a dinner reservation, which meant we weren't going to get a table at any of the fancier restaurants in town; We were hungry, so I found a typical, cheap Mexican restaurant on the edge of town. I figured that the further from town and the cheaper I went, we'd definitely be able to get in. Nope. We arrived to a 45 minute wait.
Well, it looks like we weren't going to be eating, so we decided to swing by the theater to catch a movie. Hitch had just come out (the romantic comedy with Will Smith), so that seemed fitting. Struck out again, it was sold out as well.
At this point our options were getting pretty thin. Lee commented to me that she was really looking forward to the slushies at the movie theater, so I found the closest gas station, and we both got slushies. Very romantic I know.
No food and no entertainment, what else could we do?  Lee told me that her "roommate was working at that mall…we could go visit her? With few other options, we set out to the romantic atmosphere of the Bloomington, Indiana mall, and 11 years later, I don't quite remember much from our fantastic experience at the mall, but it's hard to forget what came next.
It was now getting fairly late, and we still hadn't had a bite to eat. We had a favorite pizza place we used to eat late night after having a few drinks. It wasn't fancy. It wasn't romantic, and it was already late enough that we may have a decent chance of getting a table.
There was no nearby parking from all the other packed restaurants, so we parked in a garage a few blocks away and walked over. We walked in to find that this last resort, "hail Mary" restaurant didn't pay off. Every table was taken. With no other options left, we ordered a pizza to go. At this point we were far too hungry to drive the pizza home, so instead we sat in my car, in a parking garage, and ate our valentines dinner.
Looking back, I still think it was one of the best Valentine's Day's we've had. I didn't know it at the time, but that night told me a lot about how our relationship would be. It has never really mattered what has happened in our lives, or what is going on around us, simply being with each other has been enough to keep us both happy. Love you Lee 🙂