Top Instagram Tips For Bloggers
I must admit that Instagram is my new favorite social media platform when it comes to blogging. It's super easy to stay connected with my followers, find new bloggers to follow, and communicate with brands for sponsorship opportunities.  Instagram really connects your followers to you as a person. They get a glimpse into your life that they may not see through your blog posts. It helps your followers feel connected to you on a deeper level and keeps them up-to-date on your life in real-time.  If done the right way, Instagram can grow your brand or blog immensely. Here are my top 5 Instagram tips for bringing your A Game.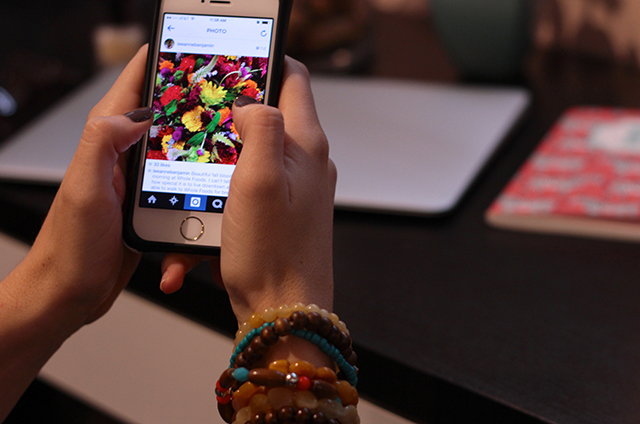 1. Consistency Is Key – Pick a posting schedule and stick with it. The more consistent you are the more your followers know you are going to be there when they scroll through their feed each day. You are giving them something to look forward to and in a way it holds you accountable.  I think 1-3 times a day is a good amount to focus on. See what works for you and make sure you spread out your posts throughout the day.
2. Quality Over Quantity – Just because you created a posting schedule for yourself, don't post something just to post something. Make sure you are proud of your photo before posting it. If it isn't a photo you would like or comment on in your feed, chances are it isn't a photo others are going to like or comment on.
3. Engage and Interact – This is super important. After you share a photo ask a question. For example maybe you just shared an image of the delicious dinner you just spent an hour cooking up in the kitchen. Ask your readers what they had for dinner in the caption. You'll be surprised at how many more comments you get when you ask questions. It also shows your followers that you care about what they are interested in. Another big one here is responding to comments. Whenever someone comments on your photo be sure to respond to them. Nobody wants to follow someone who ignores everyone.
4. Connect with Brands In Real-Time – Instagram makes it so easy to connect with brands you love. If you're really obsessed with a certain brand like their photos and comment on them often. You can even comment on one of their photos asking if they collaborate with bloggers and give them your email address right then and there. They can quickly check out your Instagram feed, determine their interest within in a few minutes, and get back to you.
5. Take Great Photos & Don't Over-Filter – Chances are you're not going to get a perfect image by just pointing and shooting. Try different angles, move the subject off to the side instead of placing it directly in the center, find the right lighting, etc. I used to use a lot of filters and I thought my images looked good. I recently started studying Instagram accounts of top fashion bloggers and I realized that their images are usually unfiltered and very crisp and clear. I decided to stop filtering my images and I've gotten a much better response.
Other Instagram tips resources:
A really helpful video from top fashion blogger Aimme Song of SongofStyle on How To Take Good Instagram Photos: http://bit.ly/XILXkY
A great guide on taking the perfect fashion photo from Who What Wear: http://bit.ly/1qKwUmV