My Review Of The SNOO Smart Sleeper Bassinet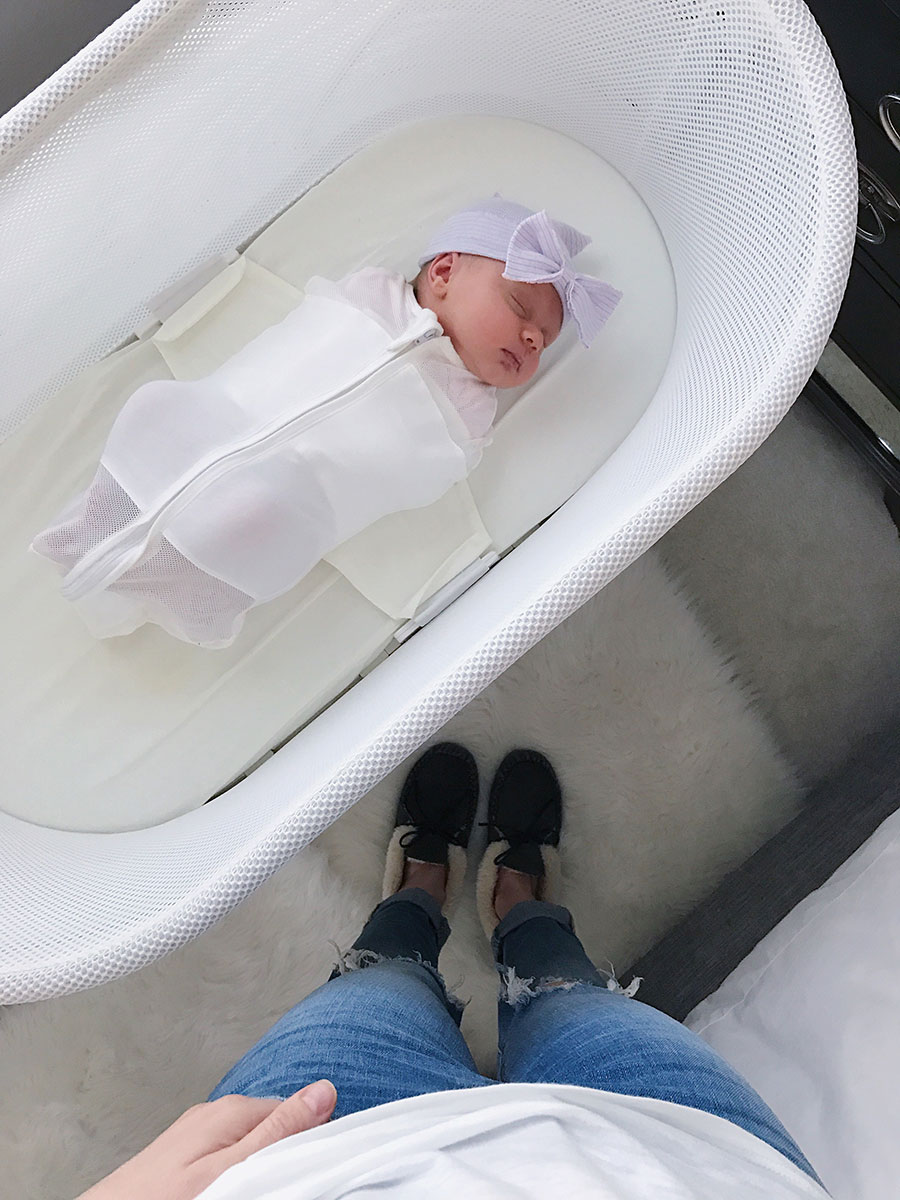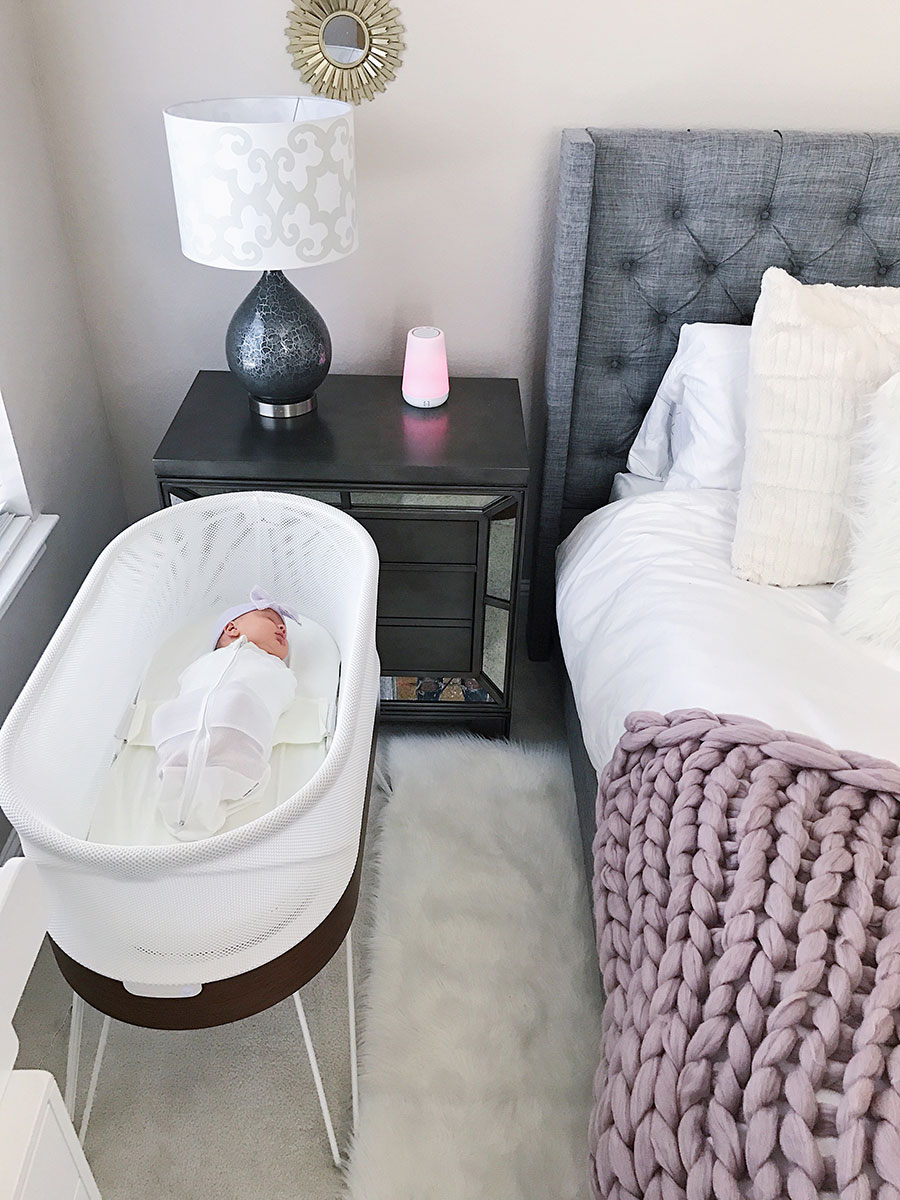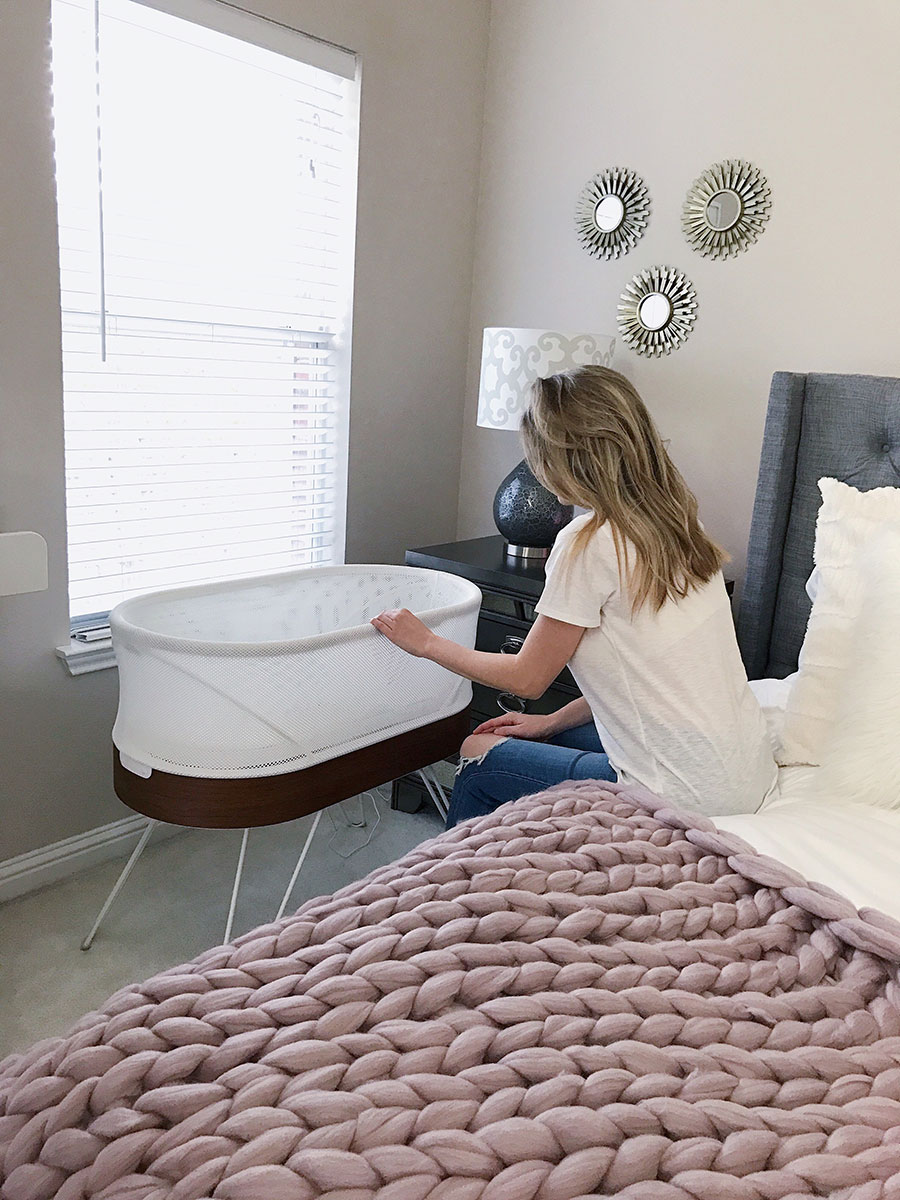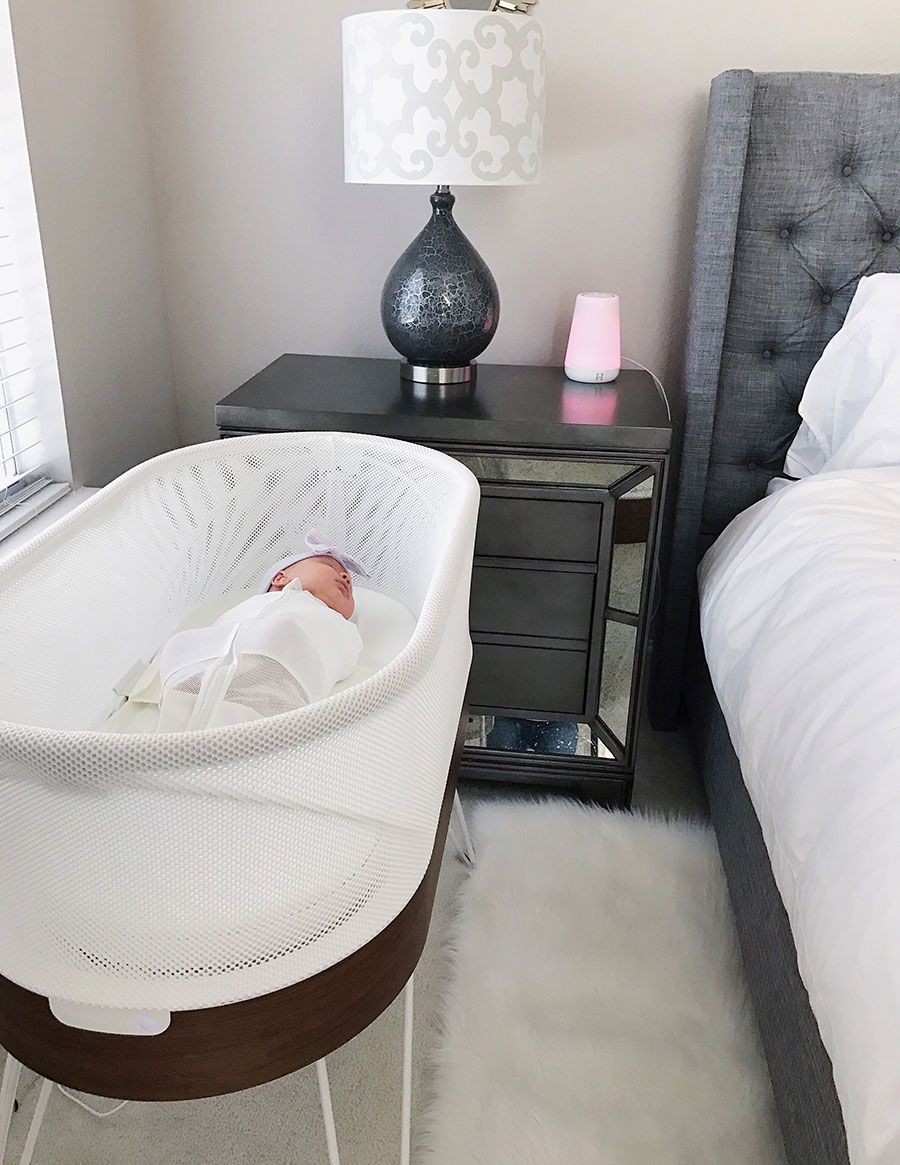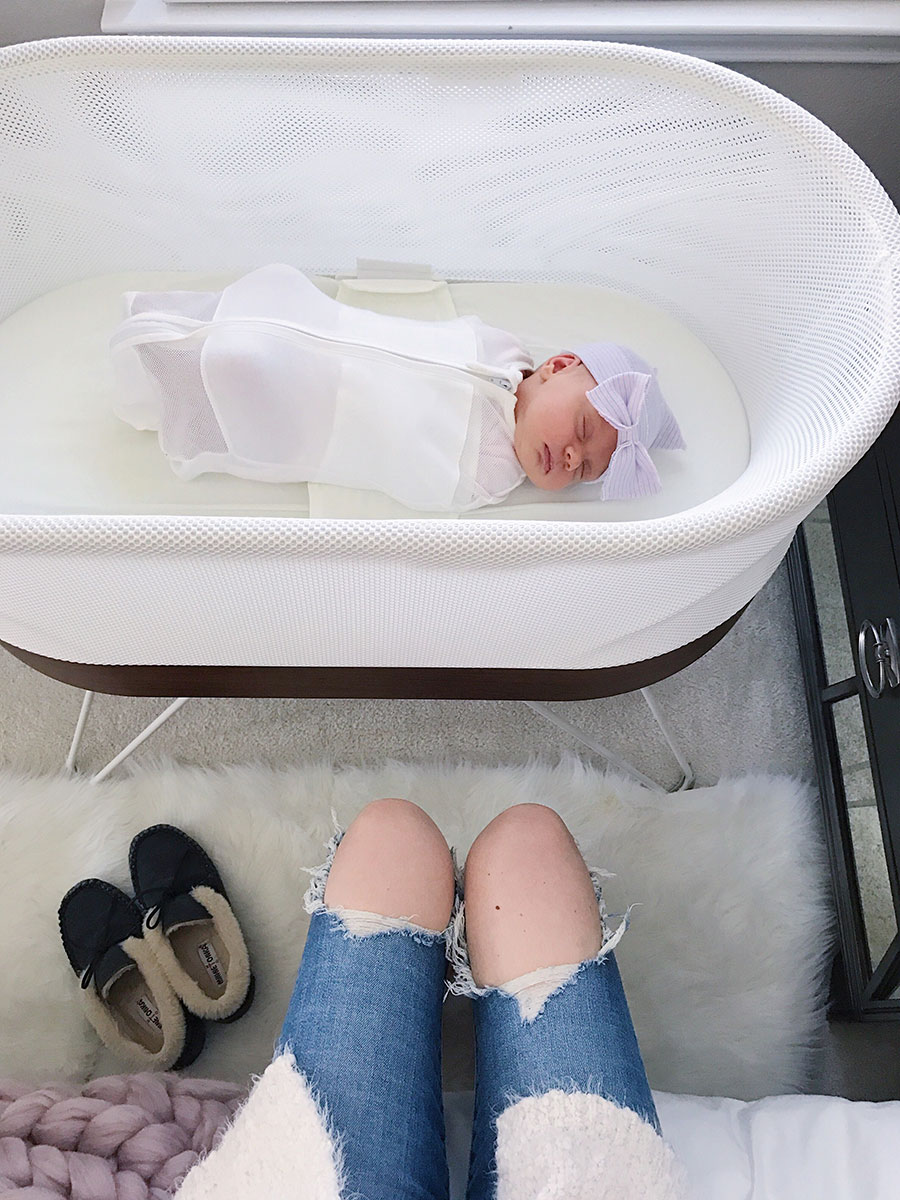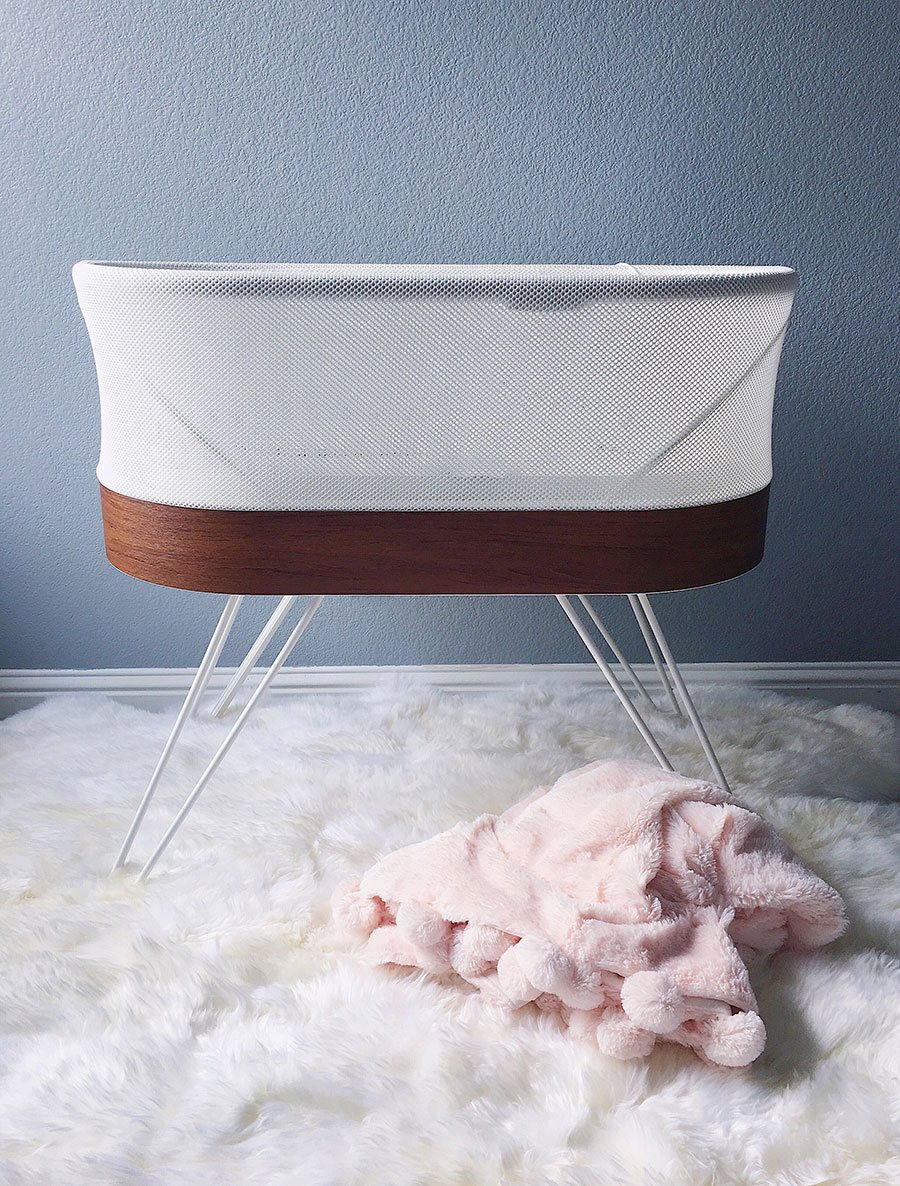 So many of you have been asking for my review on the SNOO Smart Sleeper Bassinet, so I'm super pumped for today's post! I was so excited when I reached out to the Happiest Baby about working together on The SNOO, and they said yes. Dylan and I basically studied The Happiest Baby On The Block book when I was pregnant with Noah, watched the video, and practiced the 5 S's from day one. If you have on idea what The Happiest Baby On The Block book is, it's a book by Dr Karp, the inventor of The SNOO.
I literally couldn't wait to leave the hospital so we could have Emma sleep in The SNOO for the first time. I had already read some of the amazing reviews, and I was itching to get home and try it out. The first night we put her in it she slept a 4 hour stretch, and I was amazed. Now that Emma is a bit older, she's sleeping longer stretches. The first long stretch was 9 hours and she was only 4 weeks old at the time. I about jumped out of bed and did a happy dance when I woke up that morning.
WHAT I LOVE ABOUT THE SNOO:
The SNOO sits right next to our bed so I can easily get her out to nurse at night. It plays white noise which is great for her, and also a bonus for me and Dylan because it totally relaxes us too, lol!
It's safe. The SNOO was built with safety in mind. I can sleep peacefully at night knowing that she's okay. The swaddle actually clips in, so your baby cannot roll over. It's a scared mothers dream come true when it comes to baby being safe while sleeping.
It's gorgeous. I just love the design, and the way it looks! I think it looks adorable next to our bed, and I can't wait to see how cute it will look in her nursery when we move her into her room.
The swaddle is awesome. It keeps Emma snug and secure, and it clips into the bassinet which is amazing. When I first saw it I thought it resembled a straight jacket, lol, but babies love to feel snug and protected! You put their arms down next to their sides, then the swaddle velcro's across their chest, and zips up.
A COUPLE OF THINGS TO KEEP IN MIND:
You will need to purchase additional sheets/swaddles. If they wet their bed/have a blow out you will want more sheets and swaddles on hand. The SNOO comes with one sheet, and one size of each swaddle. So remember to order extras for those middle of the night changes.
Will they become dependent on The SNOO? Good question… I don't know yet, but what they say is that babies do not become dependent on SNOO because their need for sound and motion as sleep aids naturally lessens after they become more accustomed to life outside the womb. Which is why by 5 months or so, parents find it very easy to wean motion (by using the app's weaning feature) and to wean swaddling  (by using the large sleep sack, which has arm holes for letting one arm out at a time, to get your baby used to sleeping unwrapped). By following these steps, your baby should have an easy transition to the crib.
What I've been doing to combat this so far is putting her in The SNOO for naps without pushing the button (so there's no white noise or swaying motion. This way she's only sleeping in the bassinet with the swaddle on as if she were in a crib. I think this would be a good way to wean them from it, and get them ready to transition into their crib.
It comes with a shiny price tag.
DO I THINK IT'S WORTH THE PRICE TAG:
Yes, yes, in so many ways yes. Being a second time mom, I am thanking my lucky stars for The SNOO. I think if I would have had The SNOO the first time around, I wouldn't have experienced such bad postpartum anxiety highly due to lack of sleep. We will probably use The SNOO for about 5-6 months before we transition Emma into her crib, possibly longer. So even though we won't use it for long, I think the hours of sleep I'm gaining make it worth the price tag.
A COUPLE OF IDEAS TO COMBAT THE PRICE TAG:
Register for The SNOO saying that it is a joint present. Have multiple people from your registry chip in for it.
Sell it when you transition your baby out of it. I'm sure you could get a pretty good price for it on Craigslist. It's such a new item, that I bet you don't see many used ones for sale yet.
Think of it this way: If you're baby sleeps in it for 6 months, that's about $193 a month. What items could you cut back on for 6 months so that you can save sleep once your little one arrives? Who really needs Cable TV these days?
In conclusion, The SNOO has been a game changer for us. I'm not sure if Emma is a complete unicorn baby, or if it's The SNOO doing the magic, but either way I'm getting sleep; and that's all that matters.
WANT TO WIN A SNOO FOR YOURSELF??
I'm giving one away on my Facebook Page! Giveaway will end on Thursday November 2nd at 8 pm CST, and the winner will be announced Friday November 3rd here on my page! One lucky winner will receive the entire package.The giveaway is open to U.S. residents only. Head over to my Facebook Page HERE to enter now!