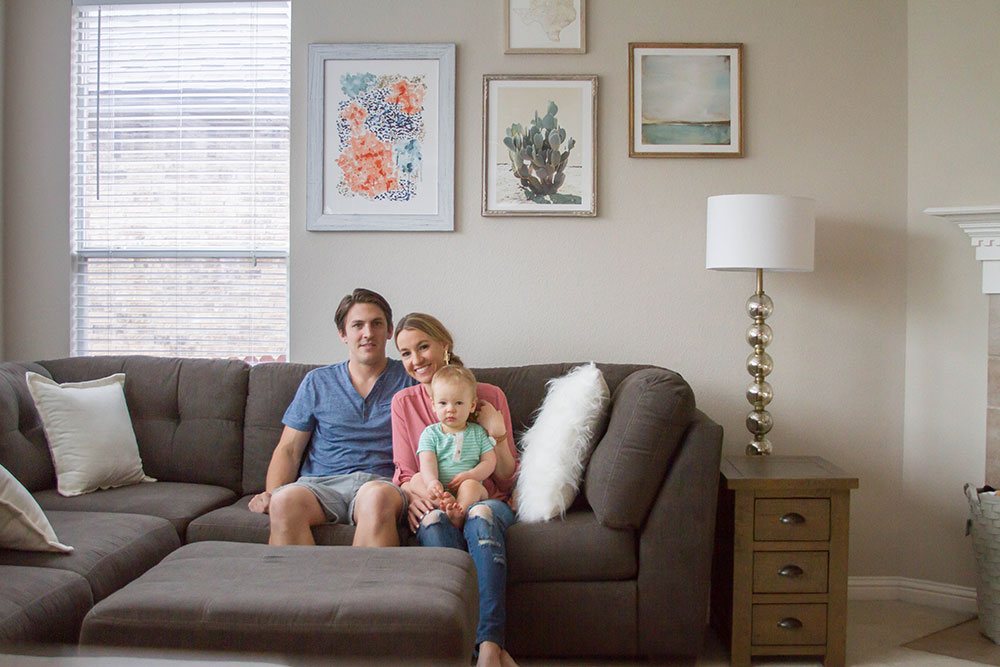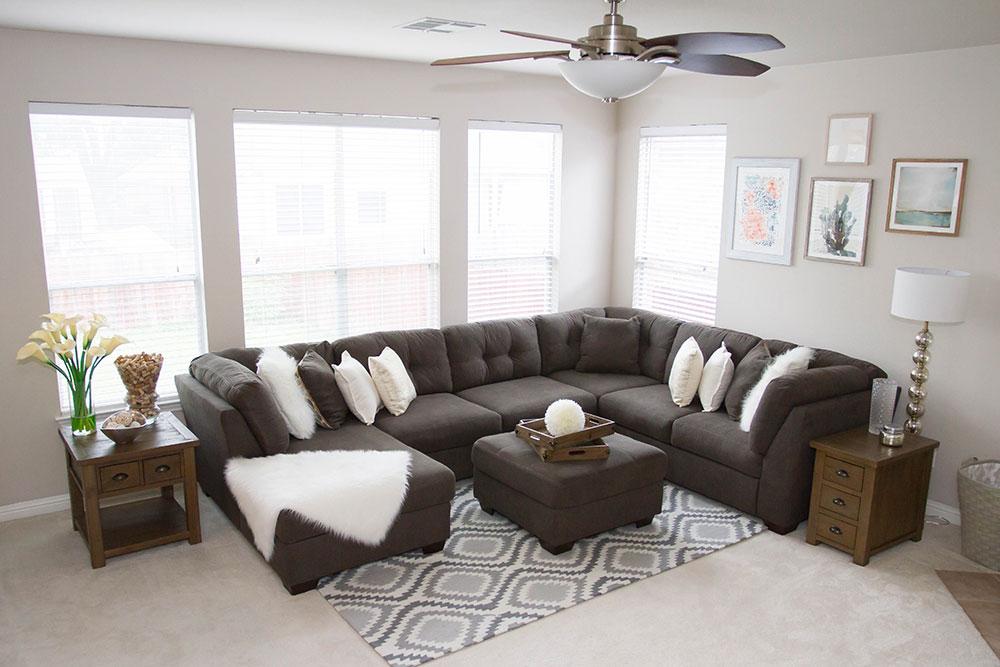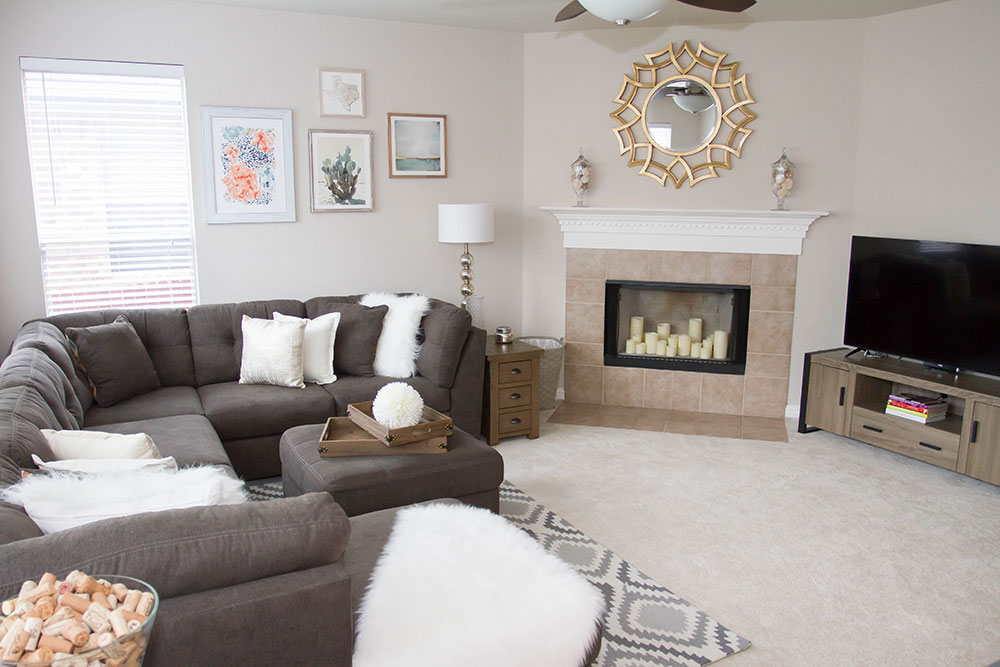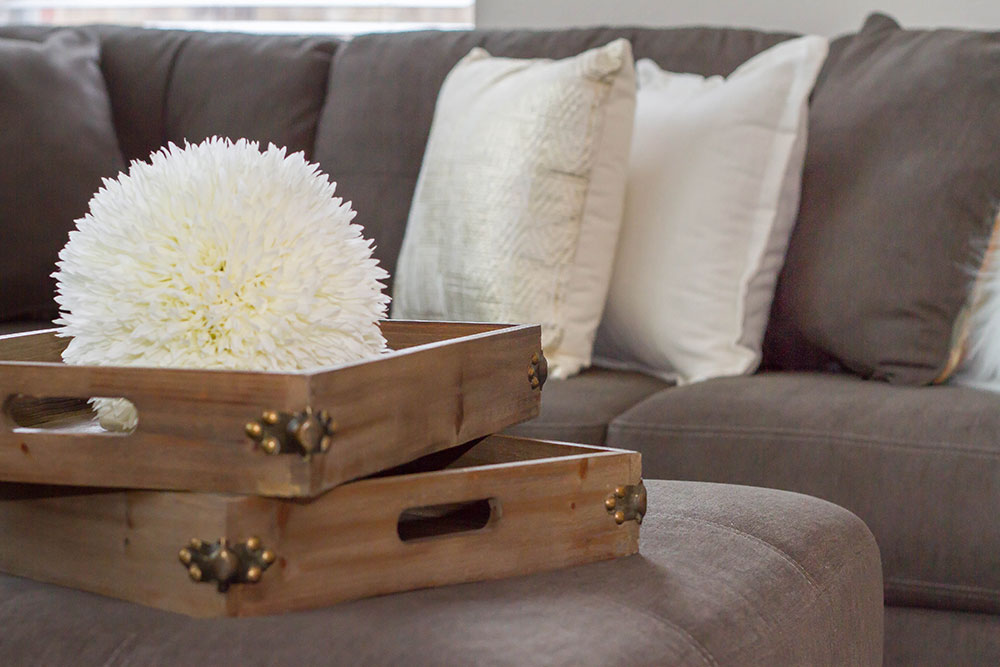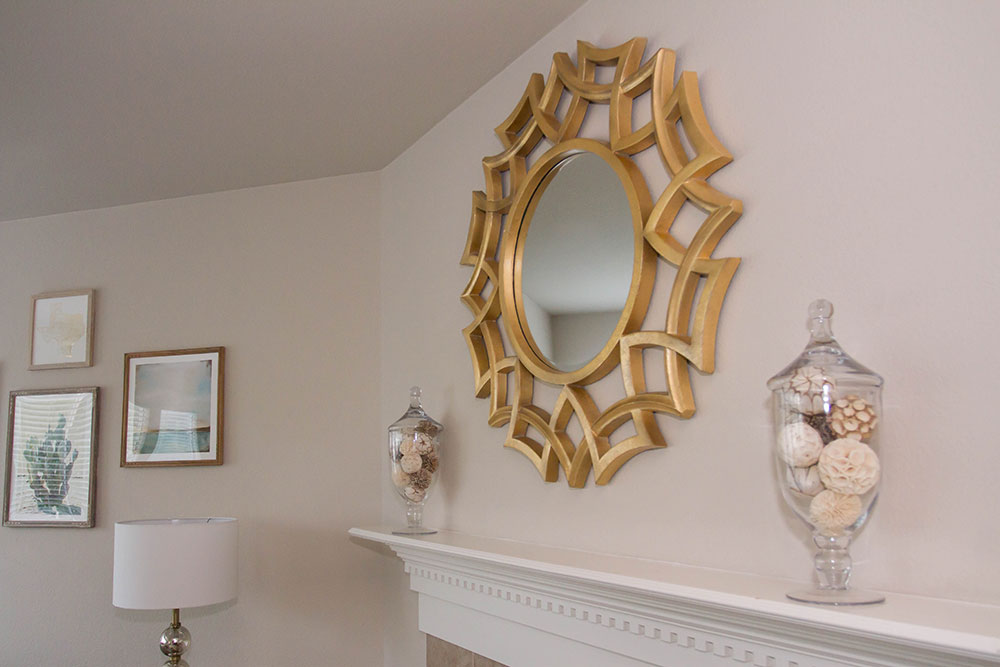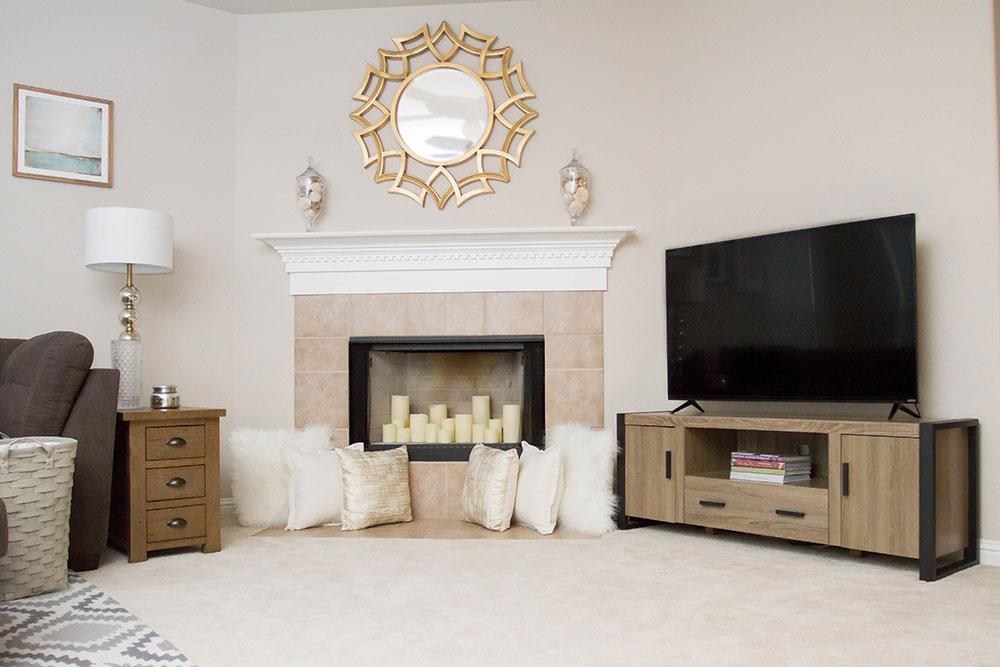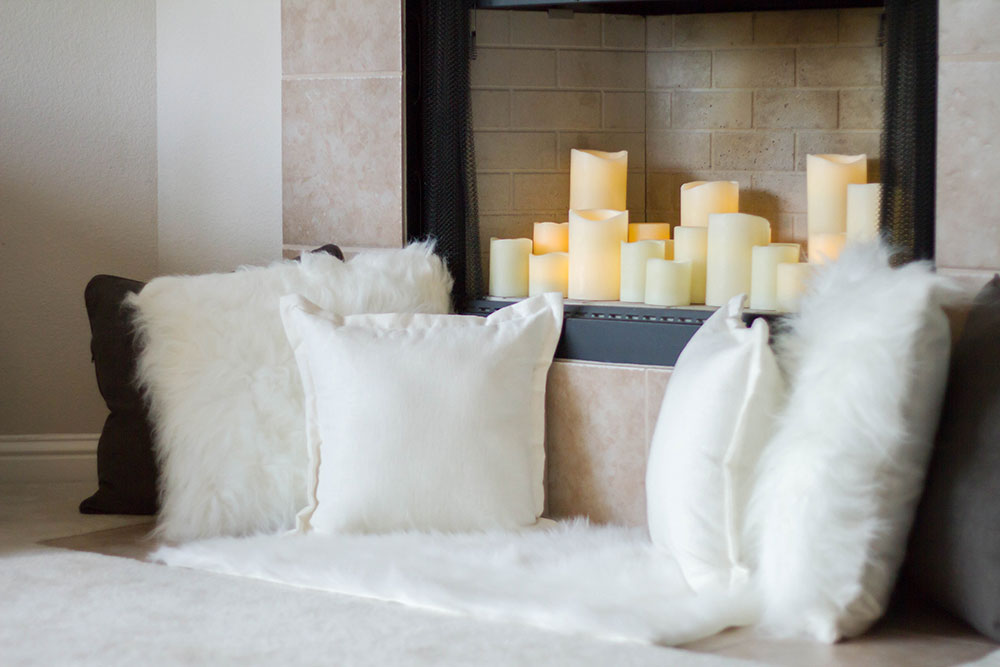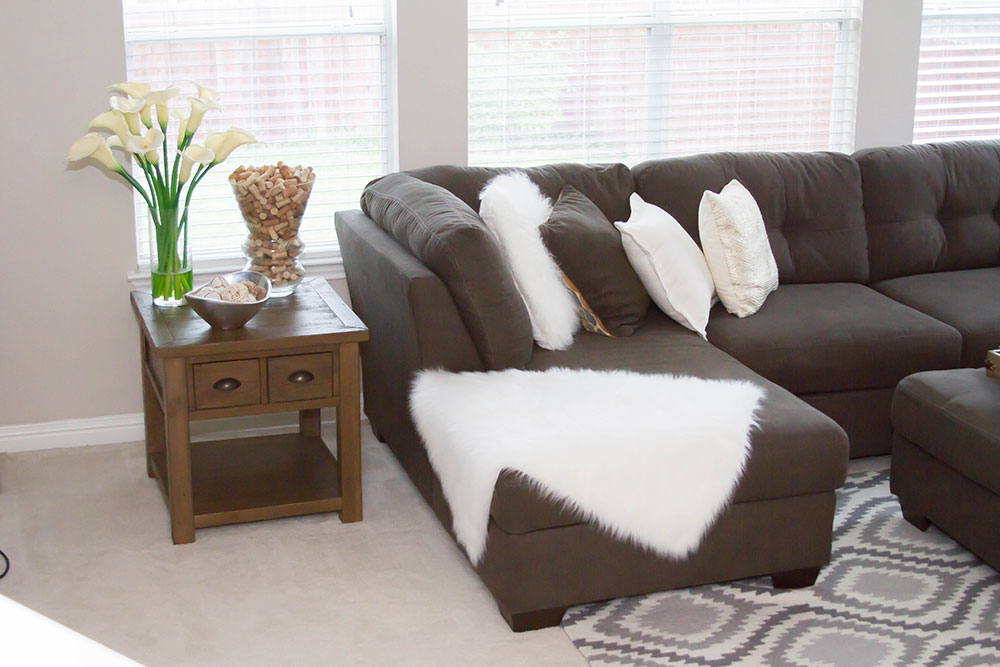 Happy Friday friends! I'm so excited to share my living room tour with you today. Thank you for all of your kind words on my recent dining room tour. I'm new to home-decor themed blog posts, but I'm loving them. Interior design & decor has always been a passion of mine, so it's exciting to share it with you guys here on the blog!
When starting with our living room we decided to focus on the couch first. For the longest time we've been wanting a big grey sectional. The issue is we haven't always had the space. Now that we've moved a bit out of the city, space hasn't been as much as an issue, and we can sprawl out like great danes on our new couch. Our sectional is from Living Spaces, the same amazing place we got our dining table from. I can easily say we are totally obsessed with it. It's so comfortable, hides stains really well, is massive, and also has a modern/chic look to it.
We wanted to blend the style in the dining room with the style in the living room, so we decided to go with the Rustic Chic look again & opted for wood end tables, and also rustic trays that we put on the ottoman and actually use all of the time when we are eating on the couch. The end tables are so solid. I can see them lasting for years, and they totally go with the Rustic Chic vibe!
For a large sectional, you can go totally pillow crazy because of all of the space. I picked out a couple gorgeous pillows from ATG Stores; these faux fur beauties, and these great linen ones. I also picked up some adorable gold pillows from Target to tie in the gold in our sunburst mirror and our little Texas print from Minted. We also got our lamp from Target. I've been eyeing this lamp at a couple of different stores, and was so excited to find it for under $100 at Target.
It was a bit hard to find the perfect tv stand that brought in the rustic chic vibe, and was also affordable so we were happy when we found ours from Walker Edison. The stand itself is actually sold through Overstock, although the manufacturer is Walker Edison. It is perfect for us because we can totally hide Noah's toys in the bottom two drawers so our living room isn't in a constant state of baby toy explosion.
When I picked out this rug from Rugs USA. I hadn't decided on the Modern Chic theme yet, so it actually ended up contrasting with my overall plan. At first I wasn't sure if I needed to get a different one, or stick with this one. After a few days I really started to like the mix between the geometric lines and the soft rustic vibe so I kept it.
For the wall above the couch I worked with Minted to create a little gallery wall. You guys remember from my dining room post, that I also used Minted for our wall art & table decor.  They are literally the best website out there for creating a gallery wall. I love how they also sell a ton of frames so you can select your art, pick your frame, and be done. I'm not the best when it comes to picking out frames at the store. It takes too much time & effort, ha! We chose 4 prints; the cactus, the Texas gold foil, the daydream, and the flutter watercolor. I love how they all came together!
We knew we needed to spruce up the fireplace somehow, but weren't sure what to do. Living in Austin you don't use a fireplace often, but I still love the coziness that comes from having a fireplace. We stayed in a vacation rental recently and they had LED candles in their fireplace. We took the inspiration from them, and found some amazing LED candles at Lights.com. We picked out a few different sizes so that we could stagger them, and it came together really nicely. I love turning them on at night when we are relaxing and watching tv before bed.
Alright friends, that was quite the long post! I hope you enjoyed the living room tour, and thanks so much for stopping by!
SHOP THE POST:
Sectional // End Table // End Table // Faux Fur Pillows // Linen Pillows // Trays // Lamp // Texas Print // Cactus Print // Flutter w/ Pink Watercolor Print // Daydream Print // TV-Stand // Rug// Apothecary Jars on Fireplace //
A big thanks to Living Spaces, ATG Home Stores, Minted, Lights.com, and Rugs USA for working with us in our Living Room.