How To Host a Loop Giveaway On Instagram
Loop giveaways are so hot right now on Instagram. It's hard to scroll through and not see a new one popping up everyday. They are a great way to team up with other bloggers, grow your following, and reward your readers. I've participated in a few lately and am planning on hosting my own loop giveaway soon so I thought this would be a great post to get me organized first! This adorable cup is from Anthropologie by the way!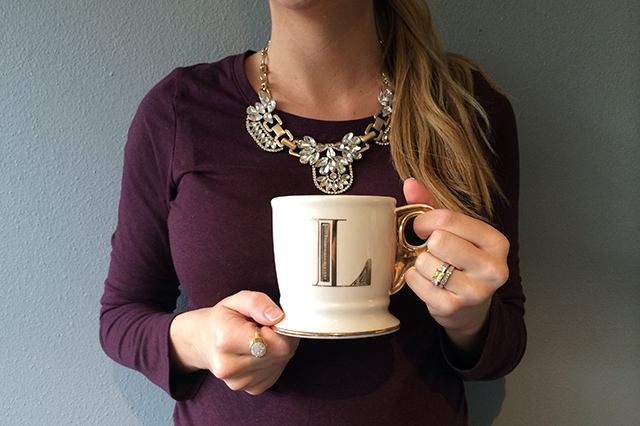 1. DECIDE WHAT WILL BE GIVEN AWAY & CONTACT INSTAGRAM FRIENDS
You can either decide to do a joint loop giveaway where everyone pitches in for one big item or each participant could giveaway their own small item. Attach a google doc that others can edit so that if they are interested they can add their email address, Instagram handle, and a column they can check off once they have sent in their $ contribution (if you are doing a joint loop giveaway) or a column where they can add the item they are going to giveaway. I think Paypal works the best for collecting payment for a joint giveaway.
2. CREATE LOOP GIVEAWAY IMAGE
You can use photoshop, indesign, or even picmonkey to create your giveaway image. I think the most important thing here is making sure that the image looks good, stands out, and states the necessary information. Here are a couple of good examples from loop giveaways I have participated in:
3. CONFIRM PARTICIPATION & SEND GIVEAWAY DETAILS EMAIL
Once you've reached the amount of participants you need send a group email to everyone. Let everyone know what time they need to post the loop giveaway image. This is very important because if one person forgets to post the image and tag their buddy the whole loop gets thrown off. Make sure to add all of the giveaway text and include the giveaway image. Also make sure everyone knows who they are responsible for tagging and who is tagging them. Here's a great example:
Posting Time:
Everyone needs to post the loop giveaway image at 7:00 PM CST on 12/29. Make sure you have the correct giveaway text added and that you have tagged your buddy.
Giveaway Text
This weekend I am teaming up with some of my favorite Instagram friends to give you a chance at winning a $250 Gift Card to Target!
How to enter:
1. Follow me, XXXXX and everyone in this loop giveaway.
2. Like this image and comment by tagging a friend who loves to shop at Target.
3. Head over to follow XXXX, the next person in the loop.
4. Keep following the loop until you get back here and then you're done!
All entries will be checked and the winner will be announced on 12/30!
Who To Tag:
Your Name                           Your Loop Buddy
@leeannebenjamin              @thescarlettsocial
@thescarlettsocial                @dtkaustin
@dtkaustin                           @shopngym
Obviously there will most likely be more than 3 people participating in your loop giveaway, but you get the idea.
4. LAUNCH THE LOOP!
Email everyone an hour before the loop is set to launch to remind them to post! It's really important that everyone posts at exactly the same time, includes the correct information, and tags the correct person. Make sure to go through the loop and make sure that everyone has posted. If someone hasn't posted try to contact them. It may even be good to have everyone's cell phone numbers so you can text them as well. Things do happen, so you will just have to roll with it if someone forgets to post. Just make sure to fix the loop by skipping over that person and tagging the next person.
5. ANNOUNCE THE WINNER
I would suggest using random.org to choose a random number. Then you can just count through your likes or comments depending on what your rules were and select the winner. Depending on how the giveaway was set up ( a joint giveaway or each person giving away their own prize ) will determine how you announce the winner. If it's a joint giveaway you can just announce the winner on your account. I would suggest creating a winner giveaway image & tagging the winner so that everyone can see that a winner was chosen. Tell the winner to email you within 24 hours to claim their prize. If everyone gave away their own prize they will need to announce their winners as well. They can create a winner image or they can just comment within the original giveaway post tagging the person who won and giving them instructions on how to claim their prize.
Have you hosted or participated in a loop giveaway before? I would love to hear how it went in the comments!