Why A Diaper Bag Backpack Is A Must Have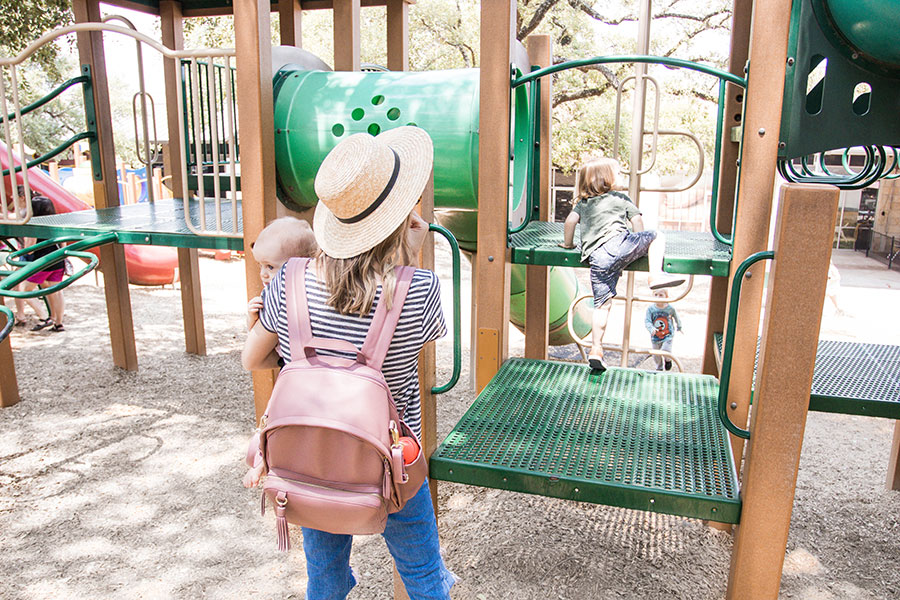 Why oh why did I not know about the diaper bag backpack and all of it's glory with my first baby!? I totally lugged around a shoulder bag, that dug deeply into my shoulder, and left marks. NOT anymore, my friends! With baby #2 I discovered the glory that is a diaper bag backpack.

I've been using this diaper bag backpack from SkipHop the entire time with Emma, and I love it SO much. It also comes in an awesome grey color if you aren't into pink. There are so many pockets, and areas to organize stuff. The straps are so comfy, and I honestly can't imagine life without it right now LOL. It goes everywhere with me.
I had a shoulder diaper bag with my first baby, and let me tell you… it was awful when we traveled. Walking through the airport with a super heavy diaper bag and carrying a baby was rough. We typically stock the diaper bag full of stuff when we travel too, so then it gets even heavier. Whenever we have traveled with both of the kids, and used the diaper bag backpack, it's SO much easier. I can easily hold Emma, and wear the backpack at the same time.
Plus… if you need to bring another bag you totally can. Most airlines allow you to bring a diaper bag, and then also another personal item! Anyway… this bag has changed my mom life & I wanted to share more about it with you guys today, because I also noticed that it's on sale. So if you've been looking for the perfect diaper bag, seriously look no further. This thing is the bomb.
Watch the video below for more info on my diaper bag & what I keep inside of it!
Thanks so much for stopping by today friends. Have a great day!
XO,
Lee Anne