The Best Kid Friendly Restaurants in Austin, Texas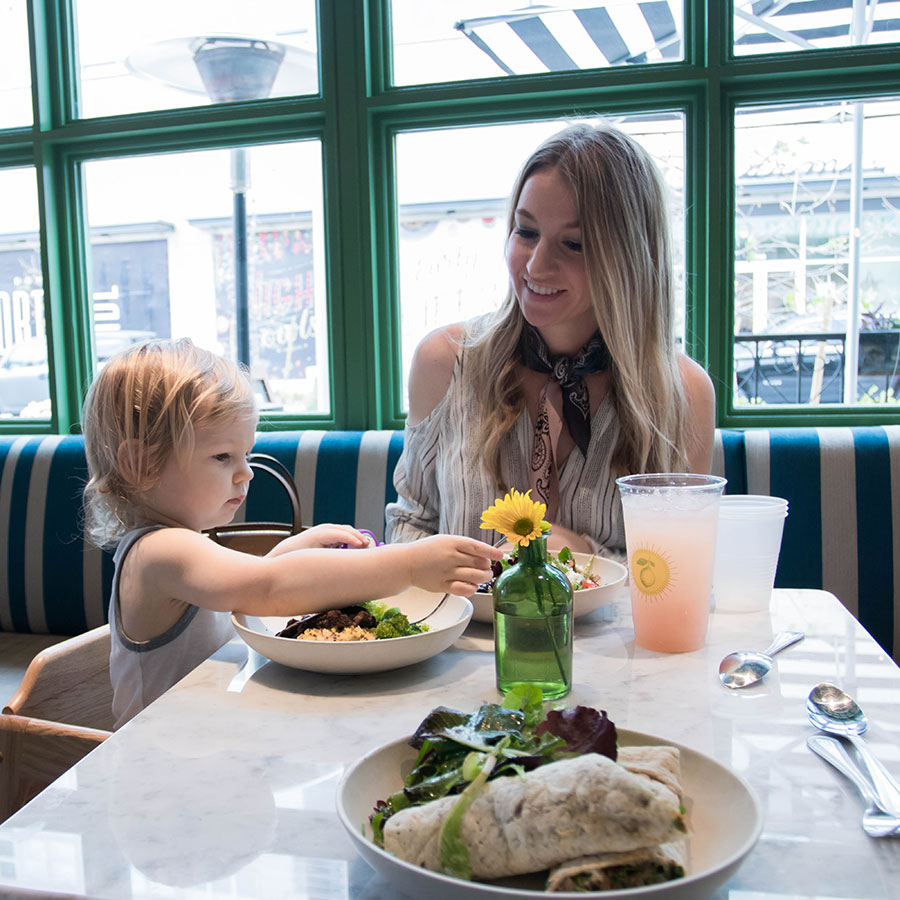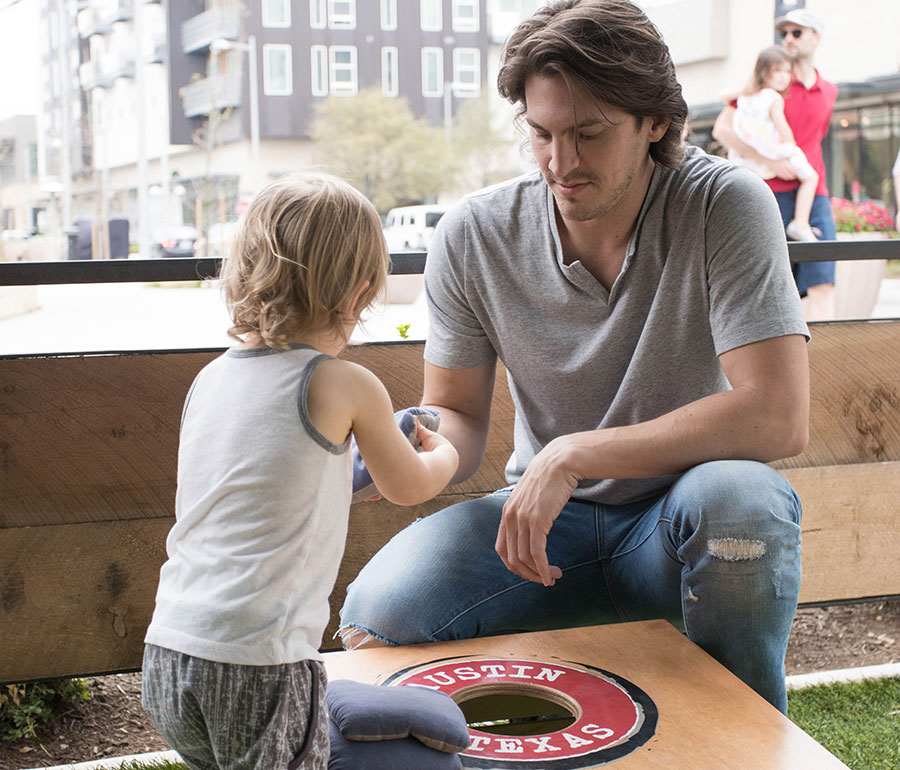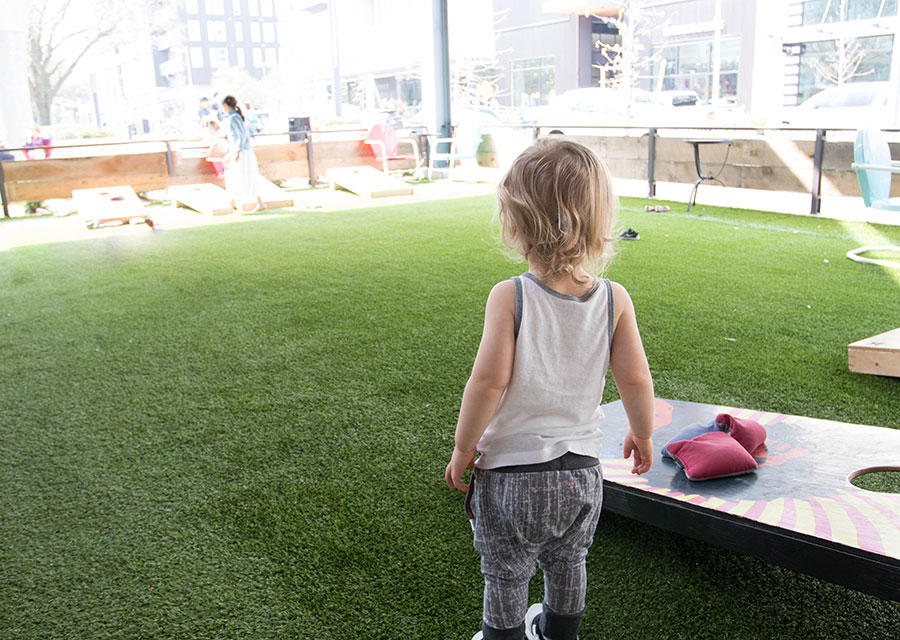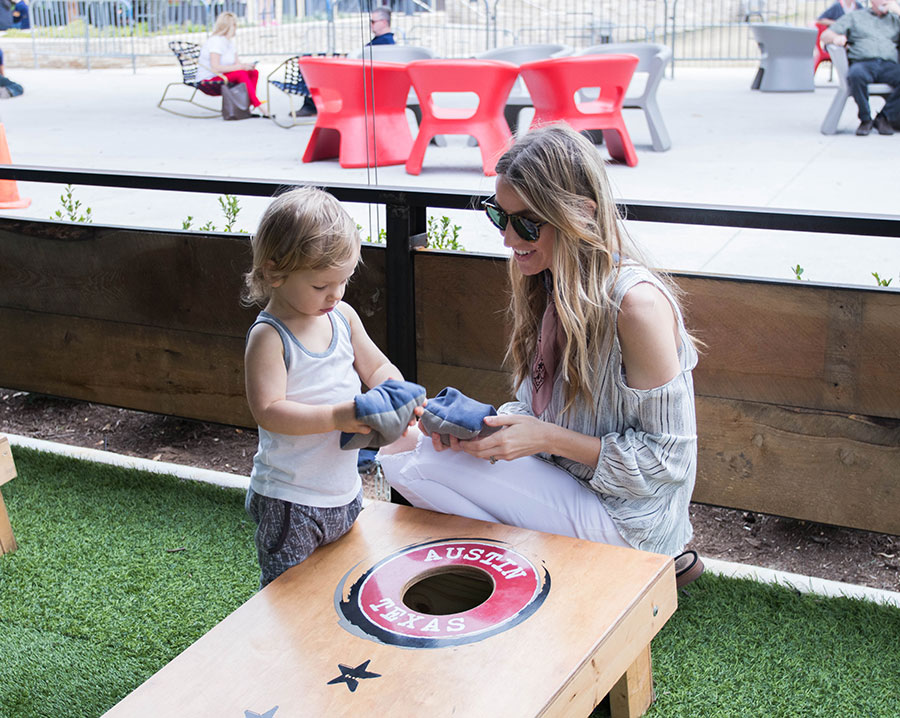 We had a great family day last Sunday with Noah. We were out of the house before 9 am (advantages of a having a toddler who wakes up before 7). We headed to IKEA to pick up a couple of things for the house. I've been wanting a new full length mirror, and we picked up a comforter for Noah's toddler bed. More to come on the toddler bed transition here on the blog soon. We haven't made the switch yet, but are hoping to within the next few months. Eek!
We hung out at two restaurants at The Domain (Flower Child & Culinary Dropout), and it got me thinking about the best kid friendly restaurants in Austin. Kid friendly means different things to different people. To me, it means a variety of things. It doesn't necessarily mean that the restaurant needs a full-on playground. Noah is really well behaved at restaurants, so as long as they have a kids menu and some crayons, he is good to go. If they do have a full-on playground it becomes a fun outing, which is great too.  I thought it would be fun to share some of my favorite kid friendly restaurants in Austin that we go to often. This way if you live here, or are visiting soon you know of some good spots to check out!
Flower Child (at The Domain Northside) – hands down one of my favorites kid friendly restaurants in Austin for a healthy kids menu. They have an amazing selection for kids, and adults too. Everything is so fresh, and delicious. I love their Mediterranean Diet salad and soups for myself, and I always get the steak, quinoa & sweet corn, and broccoli for Noah. Dylan loves the bowls and wraps. Oh, and you must try the rose petal lemonade, so good!
Chuys, Matts El Rancho, or Maudies- all 3 are great Tex Mex spots that offer kids menus. Noah is obsessed with chips & salsa, and is entertained for quite awhile trying to dip his chips and not spill things everywhere. I'm a huge tex mex fan so these 3 are always great options for me. Matts El Rancho is on South Lamar and has a great outside patio. We usually go the Chuys on Barton Springs close to downtown, but if you venture out to the one on William Canon and Mopac they also have an outdoor seating area. Maudies has a ton of locations, and I like the one off Lake Austin Blvd.
Abels or The Hula Hut (on Lake Austin)– these are both somewhat touristy spots, but they are great for kids. I know that Hula Hut has a kids menu, but I'm not positive on Abels, although I'm pretty sure they do. Both of these restaurants are on the lake giving the kids a nice view to look at. The ambiance is a lot of fun for everyone, adults included.
Culinary Dropout (at The Domain Northside)- this restaurant is more geared towards adults, but the outside patio is so much fun for kids (making it a win-win for everyone involved). We took Noah there on Sunday to play on the little patio area, and he had a blast running round with the other kids. They have great food, and a really fun atmosphere. They have a verbal kids menu, instead of a printed one, fyi. Kids love the pretzel with the cheese dipping sauce… for obvious reasons!
Whole Foods (downtown Austin)– Whole Foods is just a grocery store in most cities, but in Austin it's a destination. Whole Foods is actually headquartered here in Austin right above the store, making this Whole Foods an uh-mazing one. They actually have individual little restaurants inside of the store. The BBQ is to die for! When we first moved to Austin we lived a couple of blocks from this Whole Foods, which became pretty dangerous. We love getting lunch at the salad bar for all three of us, and taking it upstairs to the rooftop. They even have a little playground up there for the kids to play on after lunch.
Phils Ice House & Amy's Ice Cream (South Lamar)- We just took Noah here on his second birthday, and he had so much fun. The property has two restaurants in one, Phils & Amy's. This way you can get lunch at Phils, and dessert at Amy's. They also have a playground out back that makes it extra fun for the little ones. Phils serves some pretty delicious burgers and sweet potato fries, and Amy's Ice Cream always hits the spot afterwards.
Kerbey Lane Cafe (South Lamar) I love this place for breakfast! I'm pretty sure that they have the best pancakes in the world. They have a ton of locations, but we typically go to the one on South Lamar. They even have a deal where kids eat free on Tuesdays!
Home Slice Pizza (South Congress) Home Slice is an iconic pizza restaurant right in the middle of South Congress. We like to sit outside in the back of the restaurant. They really cater to kids. They bring each kid out their own pizza dough ball to play with while you're waiting on your pizza. Noah loves playing with the huge dough ball, and so do I, haha! We love to get a large pepperoni & artichoke pizza and a greek salad to split!
Pinthouse Pizza (South Lamar or Burnet) This is another great pizza spot! Noah loves the margarita pizza, and we love it too. We usually get a big one, and split it between the three of us. The new location on South Lamar is huge, and I love the casual laid-back vibes.
SHOP THE POST:

my cold shoulder top // my patchwork bandana // my jeans (similar) // my slip on mules // Noah's pants // Noah's sneakers 
There are so many amazing kid friendly restaurants in Austin, so I'm sure I missed a ton of awesome ones. Feel free to share your favorites in the comments below! Thanks so much for stopping by today friends!
XO,
Lee Anne