5 Ways To Prep For A Successful Week As A Busy Mom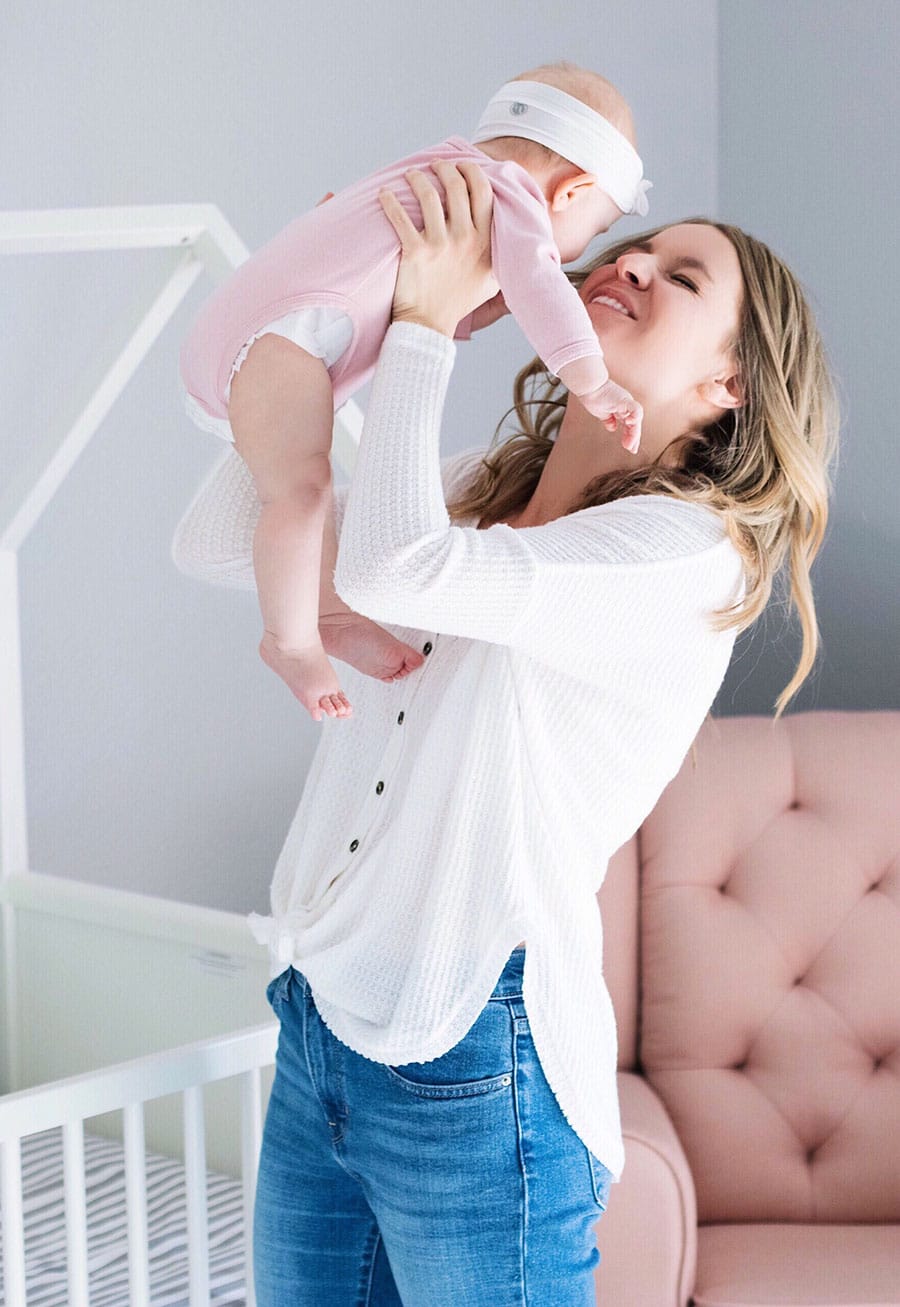 Happy Sunday mamas! If I look like I'm in pain in the image above, it's because Emma loves to pull my hair. She's a little ninja of torture these days, but I wouldn't have it any other way, lol!
I wanted to hop on here and get a quick blog post up. I was a little short on them last week, and the idea came to me just a few minutes ago. I'm reading two incredible books right now, Breathe Mama Breathe & Grace, Not Perfection. They are seriously great books, and they have helped me get centered & get back on track. I felt like I was sort of spinning out of control recently (too much on my plate), and I needed to take a step back and re-evaluate some things.
So today I wanted to share 5 ways to prep for a successful week as a busy mom! I find that when I do these 5 things on Sunday, I have a WAY better week than if I don't. I hope that you're able to use some of these tips today, so that you can have a successful week ahead!
Have A Well Rested Sunday
For me to have a successful week, I feel like I need to have a well rested Sunday. Take some time to "refill your tank" before you jump into a busy week. For me, that meant hanging out with some new friends this morning, making banana bread with Noah, reading, and eventually (after the kiddos are in bed) relaxing in a bubble bath. Do something for yourself on Sunday. Go outside and take a walk. Take a yoga class. Spend some time with your family at the park. Do something that "fills your tank" and makes you happy.
Make A Monday To-Do List
I like to make a list on Sundays for everything I need to get done on Monday. I basically dump everything from my brain onto paper. I put the piece of paper on the counter next to my computer so I can see it the next morning. That way I am prepared to take on the week when Monday morning comes, and I already know what I have to do. I don't wake up feeling anxious and unprepared.
Go Grocery Shopping & Plan Out Meals For The Week 
We went to the store this morning before we stopped at our friends house. We picked up some essentials that we will need for the week. There's nothing worse than waking up on Monday morning and not having your breakfast ingredients. I make the same thing for breakfast every morning. That way there's no question on what to make. I don't waste time staring into the refrigerator trying to think of something to make. This also helps me to eat healthier throughout the week.
Clean Up The Kitchen & Put Away The Toys Sunday Night
Take time to enjoy your kiddos on Sunday, and don't worry about cleaning up until later in the evening. After they go to bed, pick up the toys, and straighten up. Make sure to load the dishes & run the dishwasher so you can wake up to a clean kitchen. I don't put the toys away every single night, because some nights I'm just way too exhausted. But on Sunday's I like to have everything put away. When I come downstairs in the morning I feel happy seeing a clean space. This makes my mind less cluttered, and I feel ready for the week. You can even set a timer for 10 minutes once you start cleaning. You will be amazed at how much cleaning you can get done in 10 minutes!
Get To Bed Early & Spend Time Away From Your Phone
Going to bed early is really important to me. Emma typically sleeps through the night, but sometimes she doesn't. So if I stay up late, I'm going to regret it. Plus, I need my sleep (I'm a huge fan of sleep). I also like to put my phone away on Sunday evenings, and pick up a book instead. Reading right before I go to sleep is so relaxing, and it puts me in a good mood. If I look at my phone before bed, I end up opening Instagram and then my mind gets sucked back into work mode. I'll check my email, and realize there's something I forgot to do, and that totally disrupts my calm time before bed. It actually makes me stay up later, and then I get less sleep. I like to plug my phone into my charger and turn it upside down. That way I don't see any notifications come through, and I just focus on my book.
 I hope that this helps you prep for a successful week! If you have anymore tips feel free to leave them in the comments for other mamas below! Thanks so much for stopping by today!
SHOP THE POST:

Oh… and did you check out the new Opalhouse line at Target??? SO dang cute! I rounded up my favorites HERE.
XO,
Lee Anne