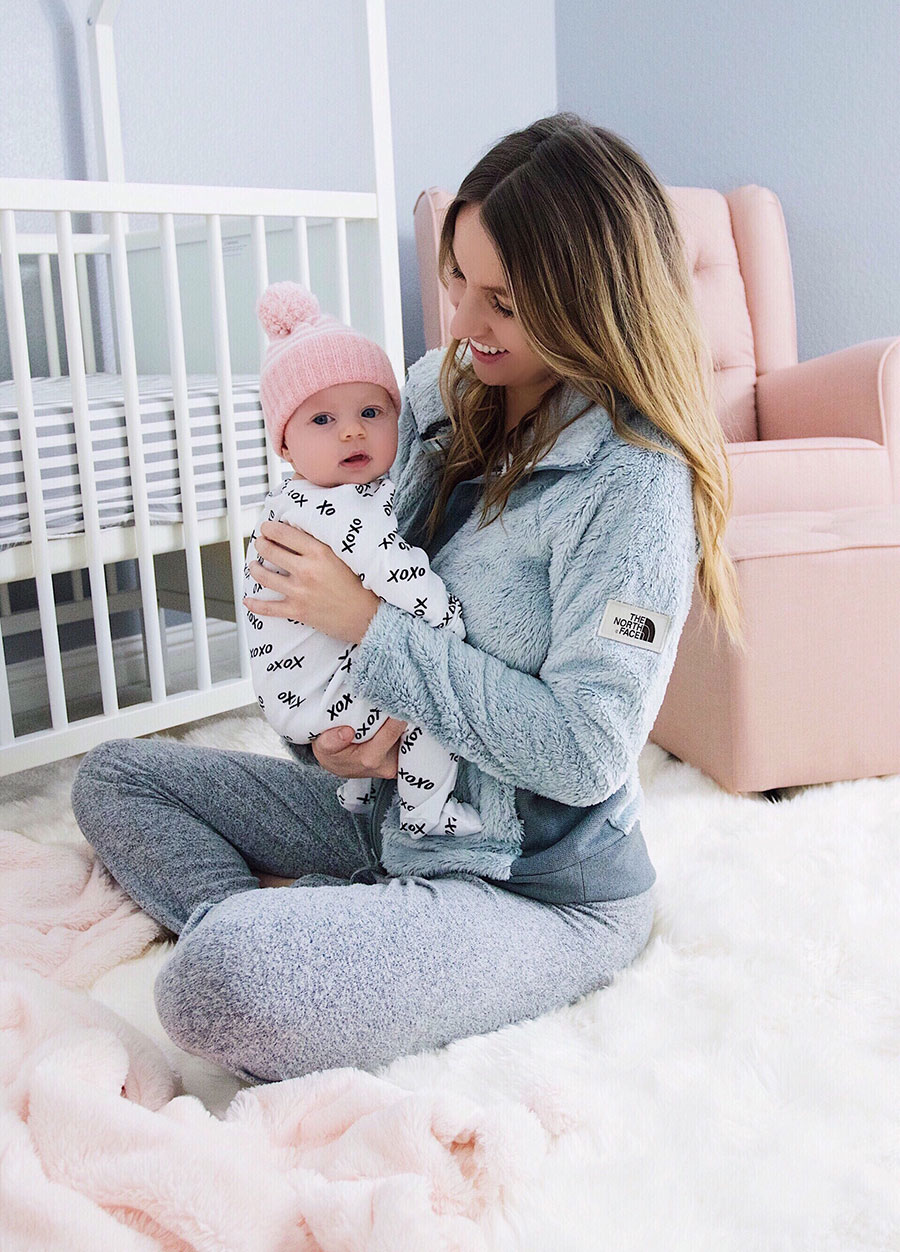 When Did You Start Blogging: I started blogging ages ago. The first blog I started was more of a shopping blog where I would feature products I was lusting over on a daily basis. When I moved to Austin, TX I started my current blog with an old name (used to be called Life In ATX). I rebranded a couple of years ago to Life By Lee. I finally started sharing more of my fashion, lifestyle, and family, and things took off from there.
How Did You And Dylan Meet: We met through a mutual friend when we were both attending Indiana University in Bloomington. We actually all went to a Dave Matthews Concert in Indianapolis together over the summer, and then Dylan and I kept bumping into each other when school started up in the Fall. I asked his roommate why he didn't have a girlfriend, and I think me relayed the message, lol. Things took off from there. We started dating in 2005, so we've been together for a long time!
What Did We Study In College: I majored in Apparel Merchandising, with a Minor in Business. My love for fashion/the retail industry/marketing/blogging started a long time ago. Dylan was pre-med before he decided to switch gears completely. He ended up switching to Finance and started a business while in college. He dropped out to work on the business for awhile, and then ended up going back and finishing a couple of years later when we were living in Louisville, KY.
What Brought You To Austin: Dylan and I originally came to Austin because he was getting involved with the business he started in college again. They had expanded to multiple markets and set up their main call center location here in Austin. The company is a restaurant delivery service that still operates today. It's called Mr. Delivery. Dylan isn't involved in the day-to-day of the company anymore, and he is focusing on another venture.
How Much Of Your Blog Do You Outsource versus How Much Do You Take On Yourself: When it comes to my blog, it's just me. I have part time help from an assistant who helps me with social media, but it's really minimal. I like to be in control of everything that goes on my blog, so I'm a bit of a control freak on that aspect, lol. I probably should outsource more so I could get some sleep, ha!
What's Your Sleep Routine With A Baby and Toddler: Non existent. Jk. But, it's not the easiest. Noah used to nap during the day, and recently he stopped doing that. He usually wakes up anytime between 6-7 am, and he goes to bed around 630-7pm. Emma is 4 months old and she takes multiple small naps throughout the day. She usually goes down for bedtime around 8 pm, will wake once during the night to feed, and then wakes up again around 6-7 am. I usually go to bed around 10 pm (about 2 hours after Emma does so I can get some more work done, and have some time for myself).
What Is Your Favorite Nursing Bra: This is the one I wear every single day. It's comfy, and I seriously never take it off. You can adjust the straps pretty tightly to give the girls a little lift, and it actually has good support. It comes in a ton of colors, and it's seriously good. I've tried a lot of them!
What Kind Of Coffee Maker & Milk Frother Do You Use?  I use the Nespresso Pixie Machine, and the Nespresso Aeroccino Milk Frother. You can also buy a bundle which includes the Aeroccino & a smaller Espresso machine (really similar to the Pixie, just smaller) HERE!
Where Is Your Bed & Nightstands From? I got them both from Hayneedle. The bed is currently sold out, but I think they are restocking it soon, so I will come back and update this post once they do!  You can find it HERE, and keep your eye on a restock! The nightstand are also out of stock, such a bummer. You can find them HERE, and keep your eye on a restock. They also show ones that are really similar if that helps! I'll be sure to keep my eye on restocks as well!
Where Are The Rugs In Your House From?
Pink/grey rug in my office: HERE 
White/grey plush rug in our living room: HERE
White/grey rug in our bedroom: HERE
What Did You Do Before Blogging Full-Time? It took me awhile to get to where I am today. I started blogging WAY back in the day with different blogs. This is my 3rd blog, and finally something sticked. I had a shopping blog in the past & also ran a street style dog blog with my sister (yes, that's right… dogs in clothing). It was fun, but this was the first blog where I truly figured out what I wanted to do, and how I wanted to do it. Once I set a path, made clear goals, and stayed consistent things started to take off. Right after college we lived in Portland, OR so I worked at an Adidas Originals Store in downtown Portland doing Visual Merchandising & Sales. I also took a stab into Real Estate and worked as a Real Estate Assistant to a husband and wife Real Estate team once we moved back to Indiana for awhile. I got my license, and really enjoyed the business, but knew it probably wasn't for me at the time. We moved to Louisville, KY where I worked as the manager of a Pandora Jewelry store. I owe a lot to that job, because that's when I decided to start my first blog. After living in Louisville for awhile we ended up moving right outside of Washington DC. I started working as a social media consultant part-time, and worked on my shopping blog & the dog fashion blog I had with my sister on the side. Neither of those blogs were make any money, so it was just my consulting gigs and Dylan's income during those times. Once we moved to Austin, I had been working in consulting positions for awhile. I had taken one of my consulting gigs full time. It was in Affiliate Marketing, and I was actually working with content creators. Youtube creators to be exact. I saw the back end of how these creators were making money, and it was mind blowing. I wanted that success for myself, but I didn't know how to get there. I continued working for the affiliate marketing company as a contractor for about 2 years. I started this blog during that job, and I worked in the evenings and weekends on my blog. Once I was earning the same amount of money off of my blog as I was earning from my contract job for 4 consecutive months in a row, I took the leap into blogging full-time. I've never looked back since. I finally feel like I'm doing what I'm supposed to be doing.
What Skincare Routine Do You Use: Currently I'm using Tula Skincare products. I use the cleanser, toner, serum, eye cream, and moisturizer. You can use code LEE20 for 20% off anything and everything on their site. Another absolute favorite skincare line of mine is Beauty Counter. I use their cleansing balm as a treat to myself every few days. It's seriously the best thing out there, and makes my skin feel SO smooth!
What Makeup Do You Use: I've been slowly converting over to all Beauty Counter makeup. They are the best Beauty brand out there for clean makeup, without all of the garbage chemicals thrown in!
Where Is Your Phone Case With That Loop From? I got it from Loopy Cases, and I'm hooked. I don't think I'll ever use any other phone case brand, ever. My husband also uses a Loop Case on his phone. They have a ton of different colors/styles. You can use code LEE5 for $5 off on their site!
How Do You Balance Personal Life With Being A Girl Boss? Truthfully? I don't balance it very well. I'm always trying to improve this. I was just thinking about how I want to start incorporating a better schedule so I'm not working so much in the evenings, and on the weekends. But honestly, when you do your own thing, you work a lot, and it's not always scheduled out. For me, that's the tradeoff from working a traditional job. I love having the flexibility, even if it means I am working into the evenings. Dylan also works from home most days so we are able to take turns with the kids. I also have a sitter that comes a couple of days a week for a few hours to play with Noah. Even though some days are quite chaotic, we randomly make it work.
Was Your Second Labor More Difficult Than Your First? I would say my first labor with Noah was more difficult. He was a very big baby (9 lbs 5 oz!), and I was in labor for a LONG time. I kick myself for not writing out his birth story here on the blog. I might have to try to remember it all & do a blog post about it. I shared Emma's birth story HERE if you want to check it out. I chat a bit about the similarities and differences between both of their births in that post.
How Did You Lose The Baby Weight/What's Your Workout Routine? For the most part, I try to eat healthy. My husband helps with this because he's a health nut. I love that I have his positive influence when it comes to cooking & nutrition. We both like to treat ourselves to pizza, cookies, candy… all of the above. But in general, we don't keep much junk food in the house. In all honesty, I believe in balance & I will never deprive myself of any food. I eat it all. I'm a big grazer. I'm probably eating something every 2 hours during the day. As far as working out, I haven't gotten back into a workout routine. I don't really believe in forcing myself into a vigorous routine right after having a baby. I'm a big believer in the fourth trimester (our bodies need time to recover from pregnancy & birth. With Noah I didn't start any hardcore working out until after he was about a year old, and I will most likely do the same with Emma. I believe in remaining active, but not forcing myself into a crazy routine. I also think nursing helps with weight loss after baby. If you were to look at me you might think I'm in shape, but I'm totally not. I used to have SO much more muscle. I was very active before kids (I grew up a dancer, worked out a lot in college, loved to snowboard/wakeboard, and play sports). I try not to stress about it, because I know I'll be back in shape again someday soon. I'm giving myself grace right now, and taking it easy. Once I feel like my body is ready to jump back into something more routine, I will.
Where Did You Grow Up: I was born in Michigan, and lived there until I was 12 years old. When I was 12 my family moved to Indiana. I went to middle school and high school in Indiana. I also attended college in Indiana at Indiana University in Bloomington. I'm a total midwestern girl. I love a good ear of corn, and some freshly grown tomatoes!
What's your Coupon Code For Daily Harvest: The code is LEE3 and it will get you 3 free cups on your first order!
I'll be updating this post often, so if you have any questions you would like me to answer send me an email! lifebyleeblog@gmail.com
Thanks so much for reading!
XO,
Lee Anne