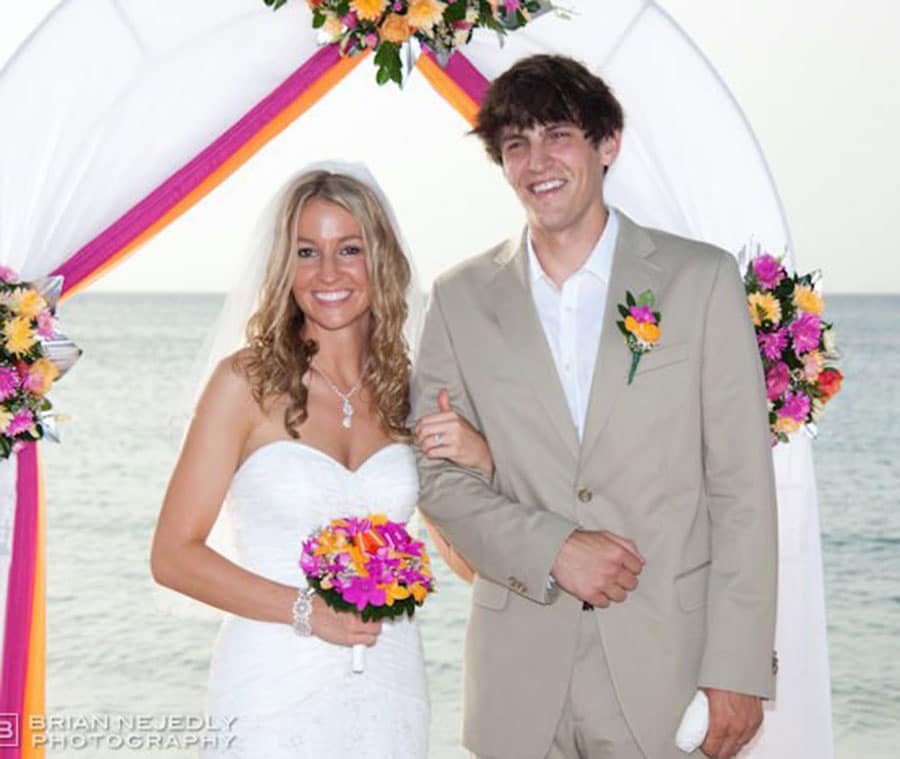 Can we talk about our wedding day pic above!? We were a hot mess (legit sweating buckets) We got married on the beach in Jamaica with about 30 close friends/family in attendance) It was an amazing week!). Ohhh… and look at Dylan's thumb… he had to visit the Jamaican hospital a day before the wedding because he sliced a piece of his thumb off… classic Dylan, lol!
Hi friends! Happy Friday 🙂 If you don't know yet, Dylan and I started a new tradition a few weeks ago. We came up with the idea to do a live date night on Instagram every Friday night (I'll explain why below). But anyway… every Friday at 7:30 pm CST we will be cooking and hanging out with you guys for an hour (sometimes we go a little longer, but we're going to try to keep it around an hour). Each week we come up with new recipes & a fun date night idea for everyone to go do after the live is over!
Why Are We Doing This?
We wanted to get to know our followers better. It's so much fun interacting with you guys on a daily basis on Instagram, and here on my blog, but I thought this would be an even better way to interact. Essentially we will just all be hanging out. Lots of you are already cooking the recipes with us (we share them a few days before on my Instagram Stories so that you guys can go shopping for the ingredients too!).
We want to inspire couples stuck at home to do something fun. We get it. It gets old staying in every Friday night when you have kids. With a toddler and a 4 month old, we are home ALL of the time.  We were getting sick of laying on the couch, watching Netflix, and just scrolling through our phones after we put them to bed (we needed to get out of that funk and do something fun). No matter how exhausted we are from the day, we need to remember to nurture our relationship, and make it a priority, so BAM we decided to create a weekly tradition of cooking LIVE on Instagram with you guys.
We want to expand more into video content. We love video content, and thought this would be another fun way to expand into it. Each week we also upload the Instagram LIVE to my Youtube Channel. If you ever miss a Friday night, you can always go to my channel and watch it. I also share the recipes & what fun thing we did that night in the description box! You can subscribe to my channel HERE so that you never miss a video.
So come join us tonight! We will be live on my Instagram Handle @leeannebenjamin at 7:30 pm CST! This week we are making a healthy dinner (we had WAY too much junk food over the holidays). We are making our recipe for greek salad, and are making this yummy chicken and artichoke recipe from Skinny Taste.
You can catch last week's date night below. We just uploaded it to Youtube today! See you guys tonight!
XO,
Lee Anne